At Photokina 2012, Sigma announced their Global Vision Line, a massive reorganization of their lens offerings, and a more stringent quality control protocol. At the time, we had no idea that their rebranding efforts would be so extensive, or so successful. Prior to 2012, Sigma was considered just another third party lens manufacturer, but as their Art, Sport, and Contemporary lens lineups have matured, they have grown into one of the more respected and exciting brands in the photography marketplace. At this week's Photokina, 4 years later, it seems that they have continued in their new tradition, with 3 new lenses, the long awaited 85mm f/1.4 Art, a 12-24mm f/4 Art, and a 500mm f/4 OS Sport.
85mm F1.4 Art
You can read up on the initial excitement over this much anticipated lens announcement in our original post about this lens here.
Their combination of class-leading performance and value have landed them at the top of countless most-recommended and must-have gear lists. With the announcement of this new 85mm, Sigma have essentially completed the set, and now offer prime lenses in all of the focal lengths photographers use most.
The lens will be built to match the already legendary 35mm  and 50mm  Art lenses, with excellent sharpness, 9 blade aperture for attractive bokeh, all designed for today's high megapixel cameras. It comes equipped with a new Hyper Sonic Motor capable of faster and more efficient autofocus, and will be available in Canon, Nikon, and Sigma mounts. We can't wait to get our hands on this exciting new lens and take it through its pace. Based on its Art series siblings, it's sure to impress.
The 85mm is expected to begin shipping in late October, and is available for pre-order now in Canon EF  Nikon F  and Sigma SA  for $1,199.
12-24mm F4 Art
This new super-wide zoom is sure to be attractive to many landscape and architecture photographers. Sigma promise exceptional image quality, with minimal distortion, ghosting and flaring. These are mighty claims, and difficult to achieve at such short focal lengths, particularly in a zoom lens. With Sigma's recent history of breaking through the f/2.8 barrier for zooms with their 24-35mm f/2,  and 18-35mm f/1.8 (APS-C),  some may have hoped for faster than f/4 in this lens, but making a super-wide zoom any faster would surely have come at a cost, either in image quality, size, or price.
The ability to shoot at 12mm on a full frame camera is no small thing, and will provide an epic angle of view. Adding the versatility of zooming to 24mm only sweetens the deal. Assuming that this lens lives up to its Art series heritage, it's sure to quickly become a contender in the super-wide arena.
The Sigma 12-24mm F4 Art is expected to begin shipping in late October, and is available for pre-order now in Canon EF,  Nikon F  and Sigma SA mounts  for $1,599.
500mm F4 OS Sport
The new 500mm F4 is intended to be the flagship super telephoto of the Sigma Sport line. It's designed to be a tough, durable, heavy-duty, dust and splash-proof beast of a lens. It features Sigma's two mode optical stabilization, and an interesting customizable "AF return" function, which will allow shooters to set a focus distance, adjust focus, and then quickly return to that preset distance. Another innovation is a rear, drop-in filter slot, to save photographers the trouble of carrying around filters to cover the massive front element.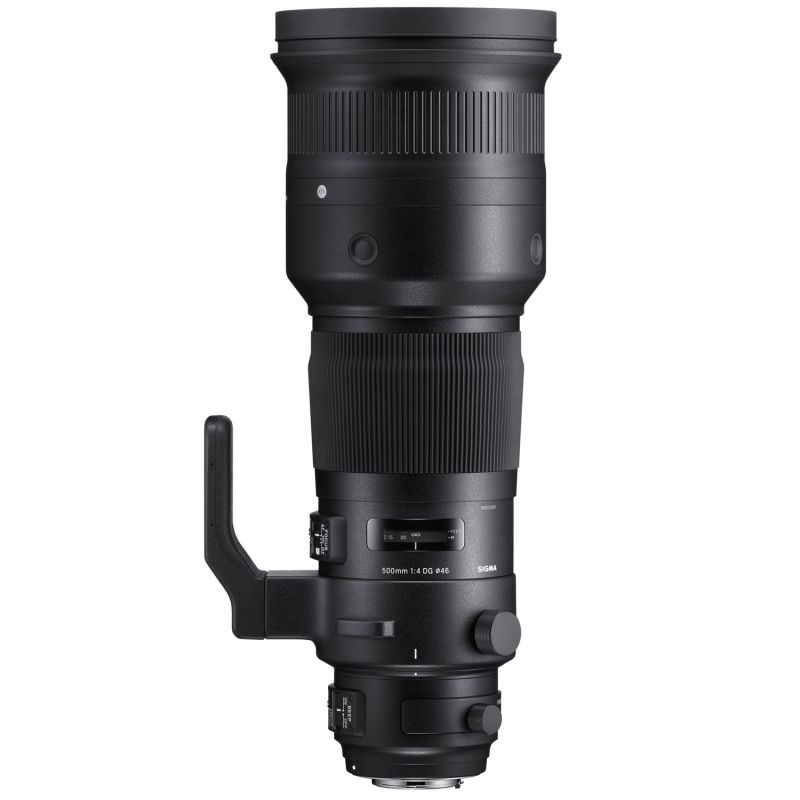 The price tag on may be the primary thing that sets it apart from the pack. At $5,999 it's certainly not cheap, but when compared to its $9,000 Canon, or $10,300 and $6,800 Nikon counterparts, the savings are significant.
The Sigma 500mm F4 Sport will begin shipping in late October in Canon EF  and Sigma SA  mounts, and late November in Nikon F mount.
For more information and detailed specs on these new lenses, visit sigmaphoto.com
Bing Putney
Bing is a professional portrait and on-set still photographer who lives in Los Angeles, and frequently travels the world to explore new and interesting cultures and pastries. Website:
bingputneyphotography.com
Instagram:
@bingputney