Well, the highly-debated question of whether Sigma's next full-frame Art prime would be 24mm or 85mm has been answered!  Just in time for the CP+ tradeshow in Japan, Sigma has revealed details about its next Art lens.
We don't have a price yet, or an availability date, but as soon as that information is released, you'll be able to order or pre-order it here on B&H.
Sigma 24mm f/1.4 DG HSM Art Press Release
The much anticipated 24mm F1.4 Art wide angle lens is designed for full-frame DSLRs, and when used on digital cameras with an APS-C size image sensor, it effectively becomes a 38mm. The lens is ideal for capturing a variety of photography subjects, including cityscapes, mountain ranges, astrophotography and weddings and is great for videography work as well. The 24mm also excels at indoor photography in low illumination thanks to the combination of exceptional focal plane sharpness, and gorgeous bokeh rendered by nine rounded aperture blades.
The lens achieves a maximum magnification of 1:5.3 with a minimum focusing distance of 9.8 inches. The 24mm incorporates both "F" Low Dispersion (FLD) glass and Special Low Dispersion (SLD) glass in a design of 15 elements in 11 groups to minimize chromatic aberration of magnification especially in the edge of the image field. Moreover, the optimized power layout includes aspherical elements that are positioned in the rear of the lens for improved wide open performance. This helps to ensure minimal distortion through the correction of axial chromatic aberration and sagittal coma flare. The new lens element design also delivers excellent peripheral brightness.
"The Sigma Art lenses are recognized by photographers for world-class performance, and the new 24mm F1.4 DG HSM will be a significant contribution to our selection of fast aperture prime lenses which is quickly becoming a strong force in the industry" said Mark Amir-Hamzeh, president of Sigma Corporation of America. "Sigma is redefining the expectations of fast-aperture full-frame prime lens performance, especially wide-open, and the results the 24mm F1.4 will deliver will be up to the exacting standards set by the 35mm F1.4 DG HSM and 50mm F1.4 DG HSM ."
Other updates to this lens include a new full-time manual focusing mechanism that switches to manual focusing, simply by rotating the focus ring, even when AF is being used, first introduced on the 50mm Art. This allows the photographer to make focus adjustments quickly and easily. As with all new lenses under the Global Vision categories, every 24mm will be tested using Sigma's own MTF measuring system, "A1," in the company's factory in Japan.
Lens Construction
15 Elements in 11 Groups
Angle of View
84.1º
Number of Diaphragm Blades
9
Mininum Aperture
f16
Minimum Focusing Distance
25 cm / 9.8 in
Filter Size (mm)
77mm
Maximum Magnifications
1:5.3
Dimensions
(Diameter x Length)
85mmx90.2mm/ 3.3inx3.6 in
Weight
665g / 23.5oz.
Corresponding Mounts
Sigma, Canon, Nikon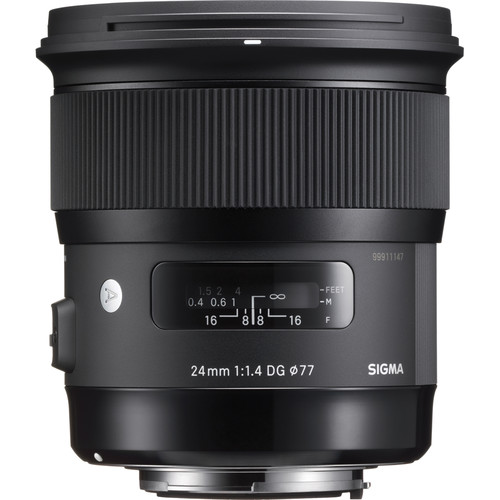 Initial Thoughts & Predictions
From the press release, it sounds like Sigma is paying attention to everything that previous versions of 24mm f/1.4 lenses have missed or fallen short on.  They (Sigma) specifically mention coma and vignetting, two of the main issues that most casual photographers don't care very much about, but are extremely important to nightscape & astrophotography.
However, the MTF charts they've published do tell an interesting story, potentially:
This could indicate that the lens is extremely sharp throughout most of the frame, but the specific line separations could be an indication of severe coma.
As always, I try not to count my chickens before they hatch, and I'm also very optimistic.
There is a very good chance that this lens is at least as good as the Nikon and Canon 24mm f/1.4's, and depending on which aspects of image quality concern you, there is a good chance that this lens is also as good as or better than the Rokinon 24mm f/1.4. (Unfortunately, both the Canon and Nikon 24's fall a little bit short when it it comes to landscape astrophotography.)
By now I'm probably beginning to bore anyone who isn't keenly interested in those things, so I'll wrap it up there. Suffice it to say that this has been a highly anticipated lens by many.
Let's talk about something that everybody is interested in:  When will this little gem hit the shelves, and what will it cost?  My best guess is, it'll be at least a month or two before it becomes available, and if the cost of the Sigma 35mm f/1.4 Art and 50mm f/1.4 Art are any indication, I'd place this lens at a minimum of $800, and hopefully a cap of $1100.  We'll see!
Should anybody else be excited about this lens, other than nocturnal star photographers?  I'm sure there are plenty of wedding photographers out there, news/war photographers, and casual street photojournalists who know the value of a fast, wide-angle prime.
What are your thoughts?  Will you buy one of these?  Or were you hoping for an 85mm Art instead?
Again, we don't have any availability or pricing information yet, but when it does become available, you'll be able to order or pre-order it here on B&H!
Happy clicking,
=Matt=