Sigma's premium Art line of lenses has gained its share of fans and detractors over the last few years as these lenses carved a place for themselves in the high-end lens market. Offering optics to rival OEM's most excellent glass at a lower, but still significant price point, Sigma Art lenses have so much positive going for them, even while been dogged with complaints of autofocus issues and compatibility troubles. Love them or hate them, however, the line continues to grow, and we get units like the Sigma 105mm f/1.4 Art.
One of the newest editions is the fast telephoto 105mm f/1.4 Art. This lens goes head-to-head in the market with Nikon's beloved 105mm f/1.4 and will be one of the fastest telephotos available for Canon and Sony as well. Selling for $1599, the Sigma bests the Nikon by a whopping $600 in price. 
Initial Thoughts
There is an elephant in the room, and it might actually be smaller than this lens. The Sigma 105mm f/1.4 Art is huge. It's almost comically so, with an unprecedented-for-its-focal-length 105mm filter size. From the front, the lens dwarfs smaller cameras and looks kind of silly.
Here's the Sigma 105mm f/1.4 Art compared to the Canon 100mm f/2.8L Macro.

The Sigma 105mm f/1.4 Art weighs in at a rather incredible 3.62 lbs, more than a full pound more than Nikon's 105mm f/1.4 at 2.17 lbs, and it's noticeable as you carry your camera around with the Sigma attached.
After some preliminary testing, however, it can be said that the lens does perform. It has been dubbed the "Bokeh Master," and it was quickly determined that if creamy-dreamy bokeh is your style (and you don't mind carrying this behemoth), you will probably like the 105mm f/1.4 Art. And while it produces defocused areas thrown entirely into an abyss, it's also sharp wide open, so the optical merits are there to counter the awkward appearance and uncomfortable weight. Color and contrast are also pleasant, and typical of Sigma Art glass.
One thing that's important to note for anyone who might consider purchasing the Sigma 105mm f/1.4 as a faster alternative to Canon's 100mm f/2.8 Macro (either version) is that the Sigma is not a macro lens. The focusing distance is 3.28'/1 meter, which is fine for portraits, not for magnified, close-up detail.
We'll put it through its paces and try it out on some real shoots, but for now, you can find a few sample images below that will give an idea of how it can isolate a subject whilst keeping it clear and sharp.
Samples
The following samples were all shot wide open, at f/1.4, on a Canon 6D Mark II. Only minor exposure adjustments have been made, if any.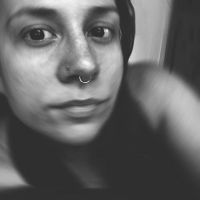 Holly Roa
Seattle based photographer with a side of videography, specializing in work involving animals, but basically a Jill of all trades. Instagram:
@HJRphotos