Gear
Canon 5D Mark III
Canon 50mm f/1.4
The Concept
The idea behind this photo set was inspired by our little "wish" sign in the window. It was a little piece I'd bought when I was decorating my very first apartment years ago. It has since survived six moves with me, but never seemed to really fit in. I ended up putting it up for sale on a local swap page, and its soon-to-be new owner was coming over the morning we shot these photos to pick it up.
I'm strangely sentimental – I felt a pang of regret, never having had much of a use for it. I pushed our family dining table out of the way and moved the girls' table front and center to the bay window.
The table and chairs were mine when I was little and had recently been passed down to me from my parents.
I wanted to get a shot of my two girls interacting with each other, seemingly candid, while keeping the composition mostly symmetrical. It worked, but only for a couple of shots.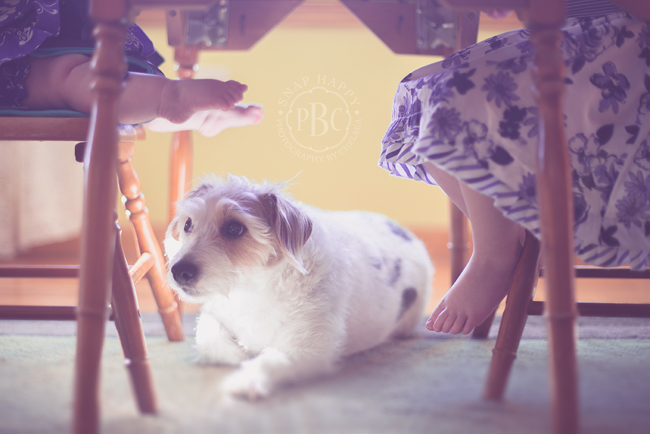 The Setup
The lighting was 100% window light, with the three bay windows being the main source. There was also one large door/window off to the left of the set as well.
I alternated through a few different lenses, and reached for the Sigma 17-70mm because I needed a wide angle, and it's what I had handy. The other photos were taken with the 50mm.
 Post Processing
The original photo had a heavy vignette, as the 17-70 isn't technically compatible with the 5D Mark III.
The SOOC was a little rough color-wise, too. We have a very loud, yellow-green wall that I tried to mute in post processing with SLR Lounge's Presets "Bright wash – Violet". I also brought the highlight slider all the way down in Lightroom 5 to keep my girls' hair from being completely washed out. Using a bounce flash off our white ceiling would have helped, but there weren't any details outside of the windows worth saving (except for neighboring homes).
[PRODUCT HIGHLIGHT: Lightroom Presets & Workshop v5]
I spent about 15 minutes trying to make the curtains appear symmetrical, and decided against it.
Additional Steps
Bribery – First by offering "coffee" to my two-year-old in a cute, blue coffee mug. When that didn't pass the test, I started talking like a crazy lady, offering chocolate and another viewing of "The Lion King" (great movie… gets too much screen time in our house, though).
Straps – My youngest in strapped into a portable high chair (basically a seat belt system to keep her from toppling over).
Conclusion
Since this photo set I've learned a little bit more about why EF-S lenses aren't compatible with full frame cameras. I'm fairly sure that the Sigma lens I used didn't (and probably won't) damage the camera's mirror – but I won't be using it on the 5DM3 in the future, just in case.
The little wish sign made it to its new home – to the buyer's future daughter in law. I've convinced myself it's going to be a centerpiece at their wedding. Front and center for a change.
Check out my other work on my website.
**Join our SLR Lounge Textures and Presets group on Facebook and share your favorite images and recipes**