Every winter right around this time of year, (just before the wedding photography season gets into full swing) I like to take a step back and consider my life and career path as a professional photographer.  Also, each year there seems to be some sort of catalyst for this type of reflection.  An inspirational video or blog post, created by a fellow photographer whose thoughts and voice are far more eloquent than I find my own scattered pondering to be.
This year, that inspiration came in the form of Jerry Ghionis' video titled "Your Perfect Day".  If you haven't already seen it, please do watch! (Or if you noticed it floating around social media recently but shrugged it off as another WPPI  promo piece like I did at first, think again!)
I also enjoyed watching Ron Dawson's BTS of the video, as well as his own personal take on achieving success which can be found on his bio page.
Building A Career In Photography
The first thing that struck me was Jerry's story about the path he took as a photographer. Before starting his own business, he humbly carried another photographer's bags for an entire two years! These days, two years seems like an eternity to all of the aspiring pro photographers I talk to. I feel like photographers today expect to go from being a novice to a highly successful pro in just a few months.  Some may even dive in with zero savings to back them up, and zero schooling in how to actually run a business. Not to mention the exponentially increasing competition compared to 10 years ago, let alone 20 years ago.
In short, this ain't the good 'ol days.  As Jerry points out, achieving great success requires great sacrifice.  Many late nights of hard work, and unfortunately, personal sacrifice.
This doesn't mean that today's aspiring photographers should be discouraged about their chances of success, nor is it a justification for them to neglect a family or a personal life.  Rather, if you plan to start a business, go about it the right way.  Set realistic goals, create a plan of action, and work hard.
Pursuing Notoriety And Fame
The next thing that struck me was Jerry's rather blunt analysis of our collective addiction to notoriety, and the shallower aspects of what it means to be a recognized artist.  Simply put, getting the most likes on Facebook etc. shouldn't influence your own personal happiness.  Getting the rest of the world to know who you are should not consume your daily agenda, let alone your thoughts at the dinner table with your family.
Of course, the whole premise of any art form involves a certain amount of admiration, otherwise what is the point of art? So there is no doubt that achieving recognition for your craft can be both rewarding and profitable.  If it helps you provide for your family, then it can't hurt right?  …Unless providing for your family ends up taking you away from your family entirely, that is.  If you let this happen too frequently, and for too long, the consequences can be permanent and devastating.
[Rewind: Transform by Zack Arais]
As Zack Arias would say, your job is to pay your rent with a camera so that you can spend time with your loved ones.  It's that simple.  The whole point of choosing to be self-employed was to be able to set your own work hours and be able to make time for friends and family.  So, when was the last time you actually did?
A Perfect Day – Waikiki Aquarium – Oahu, Hawaii
Nikon D5300, Nikon 85mm f/1.8 G
SLR Lounge Preset – 42d. Punchy Fade B&W Filmic
A Perfect Day – Byodo Temple – Oahu, Hawaii
Nikon D5300, Tokina 11-16mm f/2.8, FotoPro C5C Tripod
SLR Lounge Preset – 35a.Vivid HDR Max
Make Time For Your Perfect Day
Unfortunately for some reason, both self-employment and the creative arts seem to attract the types of individuals who completely throw themselves at their work.  This can be a good thing in the long run, but only if you learn how to keep it in check.
"We spend our time immortalizing moments for other families, and we don't actually appreciate our own."

"Do not use what you do for a living to sabotage your happiness."

"How many perfect days are you going to have with your loved ones, before you leave this earth?"
My advice?  If it's 2 AM and you're still awake because you just can't seem to finish answering all your emails, or post-producing all your photos, …get off your computer and go to bed. If it's 3 PM and your kids are sitting bored in front of the TV, get off your butt and actually take advantage of the whole reason you decided to be self-employed in the first place!
Then, tomorrow, get some help in tackling that workload. If you can afford it, pay someone to help you with post-production, or client correspondence, or whatever you need.  Or if you're broke and desperate, reach out to friends or family.  Never be too proud to ask for help, especially if your own well-being or family life is at stake.
Getting notifications about your Facebook wall activity every five minutes on your cell phone will probably not affect your bottom line any differently than if you just check it just once or twice a day.
Also, set ground rules not just for yourself and your daily work ethic, but for your clients as well.  Answering the phone at 11 PM on a week night is not mandatory.  If you can, conduct all correspondence at a specific time each day, or just two or three specific times during your work day if necessary.  Either way, the key is organization and self-control.
Last but clearly not least, it is absolutely critical to communicate with your significant other about your career choices, commitments, and workload.  If you are losing touch with your family because of your work, things can go downhill fast.  I've been very thankful that my wife Joy has been continually supportive and understanding of my endeavors, despite the periodical sacrifices of "family time" here and there.
[Rewind: Avoid Burnout This Winter!]
A Perfect Day – North Shore – Oahu Hawaii
Nikon D5300, Nikon 70-200mm f/2.8 VR, FotoPro C5C Tripod
SLR Lounge Preset –  23d. Neutral Wash Warm Cross
 A Perfect Day – North Shore – Oahu, Hawaii
Nikon D5300, Tokina 11-16mm f/2.8
SLR Lounge Preset – 42b. Punchy Fade Color Filmic
 Indeed, personally for me it has been a long and, well, interesting road to where I am today.  I've been shooting weddings, portraits, and almost anything else professionally for over ten years now. Quite honestly I'm probably still not yet as "well off" as I might have been if I had finished that degree in engineering and gotten a nice cushy salary job with benefits and, (gasp!) two days a week where I don't have to think about work at all.  However somehow I'm never a pessimist.  Even when things were tight, I knew that life was just a bumpy road for everybody, and my own bumpy road might as well involve doing something I love on a daily basis.  (Of course there have been a few days where I sat at my computer for 30 hours straight, and that's not exactly "something I love", but you know what I mean!)
I've always reminded myself to be inspired by whatever was next.  And as often as possible, I make time for "My Perfect Day".
Take care, and happy clicking,
=Matthew Saville=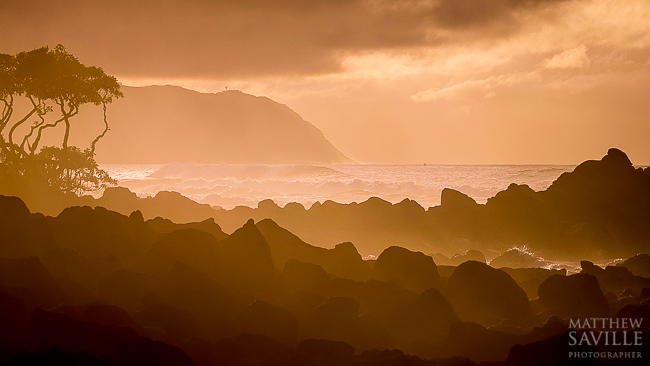 A Perfect Day – Hawaii North Shore – Oahu
Nikon D5300, Nikon 70-200mm f/2.8 VR

Matthew Saville
Matthew Saville is a full-time wedding photographer at Lin & Jirsa Photography, and a senior editor & writer at SLR Lounge. Follow his personal wilderness adventures:
Astro-Landscapes.com
See some of his latest wedding photography featured on:
LinandJirsa.com