If you're a wedding photographer, I have to imagine nothing gets you more excited than the prospect of shooting a destination wedding, or a wedding outside of your local market. For me, one of my goals was to shoot a wedding in near by New York City (2 ½ hours from me).
Why NYC you ask? Well, I just love that city and honestly, while it's only a few hours from me, it feels like a different world. So while not so much a destination wedding per se, in the sense that I wouldn't be flying to some exotic locale, a wedding in NYC was still a challenge that I needed to figure out how to attack correctly.
Tips For Shooting a Wedding Outside Your Local Market
Planning With Your Couple
This is by far the most important tip I can give you. If you have ever read my Quitting Your Day Job series, you will notice that I'm a huge advocate for communicating with your clients, but this is even more important for a destination wedding. There is so much that goes into working with clients that are going somewhere new, or in my case, I was traveling to their city and didn't know much about it.
I had a total of four meetings with my clients before I shot their wedding in NYC. Three phone conversations and one in person meeting in NYC and a bunch of emails. These meetings covered everything from the locations of the wedding events, to where my clients wanted to be photographed (so many spots to shoot)!
Ultimately, we put together a detailed timeline and map of the city with all the spots we wanted to shoot, and how we were going to travel to and from the locations. I worked hard with the couple to determine how much time we would have to shoot based on my knowledge of how a wedding day flows. In the end, it was truly a collective effort by all of us to make sure the day went as well as it did. If you don't like planning, then destination weddings or weddings outside your local market are not for you.
Research
Like any photography session or project, you need to do research about permits, rules, restrictions, and so on. I know my local market pretty well at this point, but I didn't know much about New York City. I reached out to some local photographers that have shot in NYC in the past and asked if there was anything I needed to know. Also, once I knew where we would be shooting on the wedding day, I hit the Internet and looked up the rules and regulations and this is what I could find for our shooting locations:
Grand Central Station: Anyone is free to take photos, but if I was going to set up a tripod, I would need a permit. I was not going to be traveling with a tripod, but I did think about light stands and knew those were out. Light stands look like tripods and I have seen people get spoken to at Grand Central in the past about using tripods and light stands. You can find more info here if you're interested.
Central Park: If we were shooting in the Conservatory Garden, I would need a permit. Other then that, I could not find any rules regarding wedding photography in the park that made me think we needed a permit. I found info about commercial photography and filming, but not much about wedding photography. You can find more info here if you're interested.
The City: I found plenty of rules and regulations about commercial photography and film projects for in the city, but I did not come across one thing regarding shooting in the city in general. I was warned from other photographers to not set a light stand down, but other then that, I just used my best judgment. Truth be known, the people of NYC could have cared less we were shooting, to them it was just another day and I didn't have any issues at any of the locations we went to.
Thoughts on rules and permits in NYC: Honestly, it seems like there are lot of shades of gray in terms of needing a permit and not needing one. I did the best I could to research and didn't find enough to make me believe we needed one to shoot around the city for a wedding. As usual, do your best to figure out the rules and regulations the best you can.
Charge For Travel
This is where I learned a valuable lesson; you need to charge for travel. I was so excited about the prospect of shooting a wedding in NYC that I didn't think to charge for travel or expenses. Once I started to see the expenses add up, it was too late to add them to my couple's wedding photography package. That was something I should have thought about when I was quoting them, not add on after the fact once they had booked me and signed a contract.
You need to charge for your mode of transportation (train, plane, automobile, etc.), accommodations, and I would go as far to say per diem expenses. I learned that the next time I shoot in NYC, I need to charge for a hotel room for two nights (day before and day of the wedding), my train tickets for myself and my assistant, and per diem expenses in the city, (food, cabs, subway, parking fees, etc.).
Only you know what  to charge to travel and do your job, but don't be afraid to charge your clients for this. Most clients that hire you to travel with them or to them know there will be extra charges for your services in terms of travel.
Pack Less Gear
This is a big one, if you are not driving your car to the wedding location (chances are you're not since you will be going to a destination or into the city like me), you need to pack less gear. Personally, when shooting in my local market, I can drive to the wedding venue, so I have extra gear that sits in my car for the "just in case" moment, but when going to NYC on the train, I didn't have that luxury.
I looked at what I always use at a wedding and wrote a list. I then grabbed the shoulder bag I bring to every wedding and a small backpack that I use when I create personal seascapes and figured out how to pack the gear into those two bags. The shoulder bag I would carry and my assistant would carry the backpack.
Why pack light on gear? Honestly, I know I can shoot a wedding with less than I typically bring, but my assistant and I had our personal luggage bags to bring as well, and in NYC, you need to be mobile so the less we had to carry the better.
Gear
2 Nikon D7000 DSLR's
Nikon 70-200mm f/2.8
Nikon 24-70mm f/2.8
Nikon 50mm f/1.8
1 Nikon SB-910
2 Yongnuo EX-560II
1 Shoot Through Umbrella
1 Large Rouge Flash Bender
Extra SD Cards, AA Batteries, Camera Batteries, Chargers for AA's and Camera Batteries.
Bring an assistant
I always work with an assistant, but I found having one in NYC was crucial. Remember all that talk above about not using tripods or light stands? Well, my assistant carried a backpack with extra gear and became a voice activated light stand, using a monopod with a speedlight and shoot through umbrella. My assistant also helped carry a bag for the bride, watched my back in the crowded streets of NYC, and as usual, was my extra eyes, hands and voice.
I would suggest bringing an assistant to any destination wedding. An assistant will help with photography stuff, but you will also have someone traveling with you to possibly a country or area that you know nothing about and having a partner will make the trip easier to manage.
Arrive a Day or Two Before the Wedding
When traveling to a destination wedding, you should arrive a day or two before the wedding. This allows time to account for any travel delays, get checked into the hotel, check out the venue, check in with your couple if needed, and just relax knowing you're there ready to shooting in a day or two.
Have Fun
Yes, you're working, but damn does it feel good to go somewhere new and shoot! Have a good time while you're working a destination wedding, plan an extra day or two after the wedding to go see the sites or relax before going back home. My girlfriend who is usually my assistant and I used the wedding in NYC as an excuse to get out of town for a few nights. You should do the same if the opportunity to get out of town for a wedding presents itself.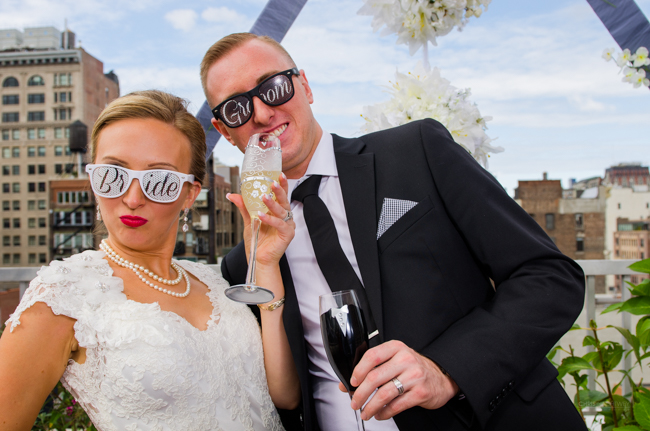 Conclusion
While NYC is not so much a destination wedding for me, (only a few hours away) there was still a ton of planning and changes to my workflow that I needed to figure out ahead of time. I now feel confident in what gear I would bring with me, even if I were flying to a wedding, and know how to work with a couple to plan a wedding that is not in my normal area.
I could have balked at shooting out of town, but instead I embraced the opportunity and can't wait to shoot out of town again. I suggest you do the same, embrace the challenge and new experience. Being a photographer can take you places you might have never been before and that's half the fun of doing what we do in the first place.
Chris Nachtwey
Chris Nachtwey is a full-time wedding and portrait photographer based in Connecticut. He is the founder and creator of
35to220
a website dedicated to showcasing the best film photography in the world. Chris loves to hear from readers, feel free to drop him a line via the contact page on his website! You can see his work here:
Chris Nachtwey Photography