Update: It is with regret that we inform you that Rob's body has now been found and retrieved by a Key Largo Volunteer Fire Department dive team. Our thoughts and sympathies are with his family, friends, and all those touched by his work.
As I pen this a short walk from the beach in Miami, a fervent search for a missing man continues about an hour away off Islamorada and surrounding cays in the Florida Keys. Wildlife activist and filmmaker Rob Stewart is missing whilst filming the documentary follow-up to his industry-shifting original, Sharkwater, and family, friends, and conservationists are looking for any and all help they can get in the form of volunteers, funding, eqiupment (night vision anything) etcetera.
Stewart, a Toronto native, has been widely adopted and cherished within the realm of ocean/shark conservation, but his affable manner, film, and truly altruistic pursuits over the past 15 years have helped him and his cause transcend niche barriers into the mainstream, and even into global policy. The success of Sharkwater isn't just in its viewing numbers but the change it has inspired, and is therefore, perhaps, the ultimate testament to Stewart's person.
Stewart and co. are in the Keys filming for the anticipated Sharkwater2 of a wreck of the Queen of Nassau near Lower Matecumbe Key according to his sister Alexandra Stewart to the Miami Herald. Diving in 200 feet of water he and another diver were using closed-circulation rebreathing equipment and both had surfaced, when the other diver was pulled out only to collapse. It is said that when the crew went to retrieve Stewart he was no longer in sight.
Stewart's family and all involved in the search are still hopeful, with a Coast Guard spokesman stating, 'We would not still be searching for him if we could not find him alive'. But as time goes on it does become more dire and thus this is a plea for any assistance anyone is able and willing to give. People like Rob are few and far between, and should you even see a video of him it's hard not to be drawn in by his unfailing passion and for the just cause he labors on behalf of.
If you can contribute to the search's GoFundMe campaign you can find it here, and if you are in the area or have sonar, radar, infrared equipment you are willing to loan or assist with, please refer to the chart below for contact numbers, meeting points and further details.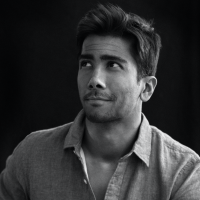 Kishore Sawh
A photographer and writer based in Miami, he can often be found at dog parks, and airports in London and Toronto. He is also a tremendous fan of flossing and the happiest guy around when the company's good.