I'm at WPPI for the first time ever and it's been overwhelming, to say the least. I spent my first morning wandering the trade show floor on stimulation overload. Pretty and shiny things everywhere, including gorgeous albums in every size, shape and color imaginable. With my print design background, this kind of stuff just beckons to me. Textured paper, linens, distressed leathers, I want to touch it all, take in the smell of the paper, glue and cloth. I'm in heaven…
But soon all the albums start to look alike. If you've seen one, you've seen them all, right? I was pleasantly surprised to see some companies offering something a little above and beyond the norm, at a higher price point, of course, but if you're looking for a way to set yourself and your wedding or portrait business apart from the rest, you may want to consider custom design or printing options for your wedding albums. Here are a few of my favorite features offered by album companies this year.
Custom Silk Screening on Linen Covers

The Toronto based company, Pikto, offers custom silk screening on linen covers by a local craftsman on their new line of flush mount albums. I loved the tactile look of this option and wasn't seeing it anywhere else at the trade show. For more information, check them out at pikto.com.
Wedding Photo Story Books

When photos alone don't fully tell your story, or that of your wedding or portrait client, you might try looking to the storybook masters at PS I Love You. More of an elegant scrapbook than a photo album, these fully custom story books would be treasured for generations. With little touches like pockets throughout the book to hold items like wedding invitations or other items from your client's special day, plus beautifully designed text collected from letters or family member interviews, these books truly stand out as one-of-a kind. They are individually designed to fit the style of the photography for each family and event, so they are truly unique.
100% Custom

Have you dreamed up an outrageous album concept and can't seem to find anyone to make it for you? Want an odd shape or a whimsically themed cover for your portfolio? Or do you just love the idea of 100% handmade, the old fashioned way? Then Priscilla Foster Handmade is the album company for you.
I actually met Priscilla herself in her booth, and she explained that her small Montana based company of four employees is dedicated to the art of handmade books. All her unique cover materials are sourced by herself and her team and converted into "book fabric," unlike mass produced cover fabric used by most album companies. Little touches like vellum between pages, deckled edges and exquisite silk fabrics made these albums stand out to me as special and high end.
All About That Binding

One thing I always look at when I'm checking out a book structure, is the binding. This is one of the factors that will determine the longevity of your book. If the pages are glued at the spine, they'll fall out or tear away sooner. Back in the good old days of fabulous handmade books, pages were sewn into signatures (little booklets) and then each signature is sewn or glued together and then glued into the cover. Cyprus Albums recently introduced a hand-sewn binding or their press printed album entitled The Gutenberg Book, aptly named for the man credited with inventing mechanical moveable type for the printing press, starting the printing revolution in Europe. Every album, presentation box and folio in this booth was simply gorgeous.
Want to see why handmade albums are so pricy? Take a look at the many hands and hours of work that go into make a book from scratch at Cypress in this video:

Print it Couture

If you have mad design skills, like myself, and want the best printing and binding for your custom creation, I would go with Couture Book. Every book is custom made to your specifications, including paper stock choice. They offer so many cover material options from old world leather to Japanese silk and cameo cut windows. They also hand sew their bindings and all of their papers are completely acid free and archival. Check them out at couturebook.com.
Today is day two of the trade show and my feet are already killing me, but I am ready and will be back to share some more of my findings. Thanks to B&H Photo for sponsoring coverage of WPPI 2015 and allowing us to be here!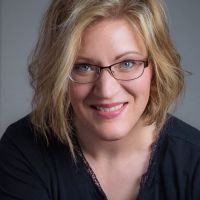 Tanya Goodall Smith
Tanya is the owner of WorkStory Branding Photography in Spokane, WA. Businesses hire her to create story-telling content that sells their high end products and services. She also teachings photographers her unique business model for making serious money as a corporate and personal branding photographer. Find her at
workstoryphotography.com
and
workstoryeducation.com