If you've ever studied high output, top one percent individuals and really listened to what they have to say on education, it's often very different than what you may be used to. The language used is different, the conversations and instruction are also very different, leaning more to the conceptual side, and focusing on how to think, and the approach to improvement. To many, this may seem useless, and I would say if you're a beginner at anything, hearing how to make the 1% just a quarter of a percent better, is probably not going to help you get near the 1% quickly, but it's likely what will get you there.
Sometimes though, you can really get immediately actionable instructions, and pick up key pieces of information in addition to the conceptual stuff, which is about as good as it gets, and that's what you'll get here in this episode of The Grid. The Grid is a live talk-show on photography and all that goes with it, and features different guests each episode. In this episode, the show features Dave Black and Erik Valind, both very accomplished professional photographers, and they give two great perspectives on the realities of being a professional photographer.
This is not some yawn-producing, coma-inducing interview, but something entertaining, and the pair continually drop gold in the form of information you'll want to hear, and possibly write down. If you are a photographer who is looking to go professional/full-time, there is a chest of valuable information to be found in this.
They cover everything from pricing – how to figure it out and what resources companies use to find what they should charge; Advertising – how to do it and is it worth it for you; Clients – how to get them and keep them; Gear – how much do you really sink into it and is it an investment, along with discussing the features of their cameras that are essential. The topics are discussed clearly and even nicely summarized at the conclusion of each.
You may look at it and see it's about an hour and twenty minutes long, and that may put you off, but don't let it, as it will be an hour and twenty minutes well spent. Literally listening to the first 7 minutes will be enough to convince you to find the time. I spent yesterday's Super Bowl watching it, and from what I hear, my time was better spent.
You can find more about and from Dave Black on his site, and Erik Valind here.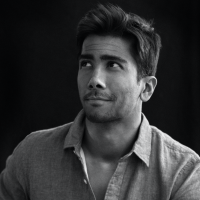 Kishore Sawh
A photographer and writer based in Miami, he can often be found at dog parks, and airports in London and Toronto. He is also a tremendous fan of flossing and the happiest guy around when the company's good.