When we think about versatility in photographic equipment, there comes to mind a few staples; items that can either save us time, space, money, headache, or some combination of. A fast 24-70, a fast 50, a 5 in 1 reflector/diffuser, a speedlight perhaps, and a seamless background.
There are few things that immediately transform a location like a roll of seamless, and perhaps the most well-loved brand of it is Savage. The problem has been, however, that while Savage has more colours than you'll ever need, they've always seemed to have missed a sweet spot in sizing; a spot they've now filled.
Savage, much to our delight, has recently added a new midsize option that is 86" x 12yds (14 lbs), and made it available across it's entire paper line of 65 colours. As of right now Savage offers the following sizes:
26" x 12yds (4 lbs)
53" x 12yds (6 lbs)
86" x 12yds (14 lbs)
107" x 12yds (15 lbs)
107" x 50yds (49 lbs)
140" x 35yds (40 lbs)
The most popular Savage paper sizes have been the 53" x 12yds and the 107" x 12yds. The former is great for headshots, product shots and even 3/4 length, but even at that point it's not offering a lot in terms of movement, and one typically has to keep a very careful eye on frame parameters. The latter is great for bigger subjects, movement, and groups, but it's just that little bit big for smaller spaces and studios, and the practicality of moving around with a roll that size is minimal.
The new midsize 86" x 12yds fits really neatly between the other popular sizes, and it wouldn't be a surprise if it becomes their best-selling option. I know it'll be my go-to from now on.
You can get all the new and other Savage colours and options here, and if you're curious as to how dramatic an effect a background can have and how to accomplish it, have a look at the following post:
How & Why To Shoot On Colored Seamless Backgrounds | Improving Your Portraits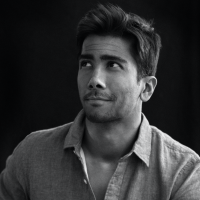 Kishore Sawh
A photographer and writer based in Miami, he can often be found at dog parks, and airports in London and Toronto. He is also a tremendous fan of flossing and the happiest guy around when the company's good.