Samyang is teasing us yet again! A few days ago on their Facebook page, the Korean company announced that on April 28th they were inviting us to join them in the next level of creativity, citing the second stage for Samyang in 2014.
The second Step of Samyang Optics in 2014. Samyang Optics invites you to join the journey to the next level of creativity on April 28th 2014. We hope you to enjoy our proud new products.
I was reluctant to post anything about this at first, given how vague the teaser is. But earlier today, I came across a new rumor related to this announcement, which points to a – now deleted – Samyang response to a comment on that Facebook post that looks to be talking about 'AF" and "Canon."
It would seem that the recently rumored bit I posted a ways back regarding Samyang introducing a new line of AF lenses may soon be officially announced. Look at the text of the announcement, it mentions "next level" and "second step." Could they be announcing something else big? Sure, but based on the rumors we know, AF seems the most likely announcement.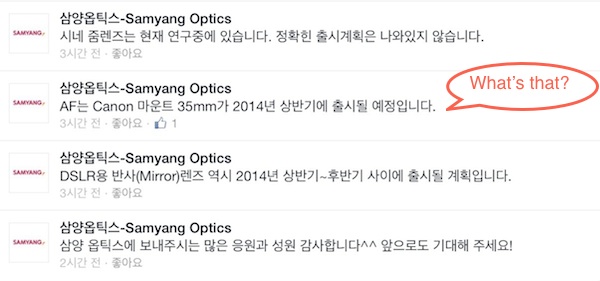 To me, it seems clear that Samyang is poised to announce at least one new Canon mount lens that will include AF. I have always been happy with the optical quality of Samyang lenses, it has always been the build quality that concerned me. If the addition of AF also coincides with an improvement in overall build quality, then Samyang could become a great option for low budget photographers.
What are your thoughts on this? Do you agree with the conclusion that this could be the AF announcement?
[via Canon Watch]