Since the Samsung T1 first arrived some two years ago now, it made a splash with the public and became a major favorite with photographers the world over. I did a review on the original here on SLRL and the number of inquiries and overall response to it was extremely high. Since that point it has become a staple in the workflow of many here in our office, one is always in my bag, and it is a product that always finds its way onto our gift guides. Now there's a new one, the T5, and it looks brilliant.
The T1 was succeeded in rather rapid succession by the T3, which took on a different look, albeit still small, and upped performance ever so little. The new T5 is once again retains that small form factor, is even more sleek, and is equipped for an even more modern and data-intensive workflow.
It comes with Samsung's 64 layer VNAND tech, and encrypted security, USB-C to C and USB-C to A (two cables included) for enhanced compatibility across numerous devices and greater speed. Speaking of speed, the new T5 boasts up to 540MB/s read speed and up to 515MB/s write speed. Varying storage sizes are available from 250GB, 500GB, 1TB, all the way up to a whopping 2TB.
As storage it is near-as-makes-no-difference 5x faster than external HDDs, and so so much lighter. Are there faster SSDs out there? Of course, but not really at this size, and as for durability Samsung is claiming it can handle drops from as high as 2 meters. Speaking from my experience with the T1, it can probably handle more.
How much for this diminutive power house? Ranging from $130 to $797, and not all colors are available in all sizes. The 250GB and 500GB are available in Blue, and the 1TB and 2TB options are available in black. Here's the price structure breakdown:
Samsung 250GB T5 Portable Solid-State Drive (Blue) $130
Samsung 500GB T5 Portable Solid-State Drive (Blue) $199
Samsung 1TB T5 Portable Solid-State Drive (Black) $397
Samsung 2TB T5 Portable Solid-State Drive (Black) $797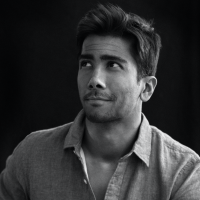 Kishore Sawh
A photographer and writer based in Miami, he can often be found at dog parks, and airports in London and Toronto. He is also a tremendous fan of flossing and the happiest guy around when the company's good.