If you ever get the chance to attend a workshop by Sam Hurd, an amazing wedding photographer and one of SLR Lounge's 100 Best Wedding Photographers, you will undoubtedly learn several new techniques. And you'll definitely walk away with fresh insight and creative ideas to take your photography to the level of epic.
We just returned from WPPI 2016, where Sam Hurd taught a well-attended (despite the 8:30 A.M. start time) platform class "The Art of Discovery: Why Failure is Essential." One of the main focuses of his discussion was what Sam refers to as "The Five L's": Light, Lines, Look, Layers, and Luck. Here are some takeaways from Sam's class.
Light
According to Nessa K, Sam's girlfriend (a fantastic wedding photographer in her own right and also one of SLR Lounge's "100 Best"), "Light is king." This is a mantra that Sam holds true. For Sam, "light shapes everything." And this is very evident in his work, where he generally makes use of a single video light when the ambient (or available) light is not suitable.
Lines
Paying attention to lines pays off big for Sam, and it can produce beauty in an otherwise unsuspecting scene. A simple window and a room can allow for a breathtaking image. For example, simply pull back from the scene, observe the available lines, and give proper attention to your subjects.
Look
One of Sam's most important tips for posing is to have the subjects move closer to one another. He often directs them to almost kiss or almost touch, which results in his clients exchanging looks that are intimate and natural to them. By directing his subjects to take a step closer to each other, he is able to create a more natural mood that results in images that truly represent the emotions of his subjects.
Layers
Sam likes to do more than simply shoot his subjects "as is," and he finds that things in the foreground and behind his subject make the image more interesting. When considering layers in an image, Sam takes this approach: look for simple layers and shoot wide open except for when creating sun flares ("an aperture of f/16 + a bright sun are necessary for flares," says Sam).
Sam also believes that "the world is more interesting when you shoot from the hip." In other words, Sam will literally place his camera at the level of his hip. This is why he recommends that everyone try shooting in live view if they never have; by shooting in live view and holding his camera down by his hip, he is able to see the world of his subjects in a new way that creates unique layers of depth in his images. This is also one reason why he loves the Nikon D750 (live view works great in conjunction with its tilting live view screen).
Luck
For Sam, "smooth seas don't make good sailors" (his favorite quote from "The Walking Dead"), and sometimes a bit of luck is required to get that epic shot. In other words, try some things out and take a chance; inevitably, you'll fail . . . But you'll also succeed and create something amazing more often than you think. And you'll definitely learn and grow. So grab a prism or convex lens (two of his favorite "tools" that he regularly teaches about) and start shooting!
Conclusion
Sam's class was an amazing 90 minutes, and he covered tips that ranged from running a photography business to finding inspiration in images that you see on a daily basis. He also took time to answer questions about some of his most popular images (and was more than stoked to reveal how he shot them). You definitely need to check out his podcast, "The Epic Podcast", and attend one of his workshops as well (he still has space at his Orlando workshop, btw).
Photographs by Sam Hurd are copyrighted and have been used with permission for SLR Lounge. Do not copy, modify, or re-post this article or images without express permission from SLR Lounge and the artist.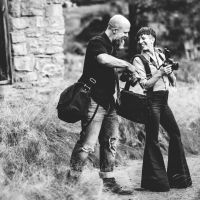 Amii & Andy Kauth
Amii & Andy are a wife and husband team of rad portrait and wedding photographers (Sunshine & Reign Photography) who absolutely love life and are generally just stoked! Yeah! When they aren't photographing or writing and teaching about photography, you'll find them off on a seriously legit adventure with their little ones, lifting weights in their garage, training jiu-jitsu, refining their archery skills, or surfing every chance they get. And on the rare chance they escape off on a "date night"? Yep! They'll find a wedding to crash (true fact). Website:
Sunshine & Reign Photography
Instagram:
@sunshineandreign