If you've ever found yourself staring at the work of a photographer, riddled both with enough enthusiasm and perhaps even envy to become one, or usher your hobby into a profession, hurdle number one is usually building your portfolio. This is true for whatever genre you decide to shoot, but I dare say more common, and even daunting, for portrait/fashion photographers.
Those of us in this line understand that, as un-PC as it sounds/is, better looking subjects do better for your portfolio. On the same token, better performing subjects do better for your portfolio, and finding people who do either/or and both well, is tough. It used to be, you would either shoot random people you knew, or went to an agency to try to do tests – which is even more difficult to get into today – otherwise you'd have to pay professionals. That can be costly, and even then, it's not simple to find them. Call to stage then, Model Mayhem, which brought together people looking to shoot people looking to be shot.
Model Mayhem has its place and still is one of the primary resources budding photographers can find talent to work with, but in a day of mobile everything, their mobile services are paltry. The next step would've been to refine MM and make a clean and user-friendly app, but it hasn't happened really. Other companies have tried to take up the torch, and most recently, an Australian-based company called Romey. You guys asked about it, so here's my take.
Romey has taken the premise of Tinder and other 'dating/hook up' apps, and applied the same 'i like you, you like me' concept to the arena of photography. Quite brilliant, really, if inevitable.
It's free to join and use, though there is a Premium member side to it. All you do is download the app, set up a basic profile including your age, gender, vocation (model/photographer), your traveling distance, 5 or more of your images, if you do TFP or not, rates, hours of availability, and so on, and you're pretty much set. You can also set travel dates which allow you to set-up shoots with talent in cities you're traveling to.
If you're a model, when you hit 'Find' you'll be presented with photographer profiles one by one where you can look at their images, stats, reviews, requirements, and hit like or dislike, and the reverse is true for photographers. If you both fancy the idea of working with each other, then you can message and set it all up. This mentality does save a lot of wasted time, and the appeal and application is there for companies as well to find talent.
It's A Bigger Service Than It Looks
As mentioned above, it's a free service in the app, but there are three tiers. A Pro membership costs $5 a month and gives you the ability to load 50 images versus the standard 15; a web portfolio; makes you eligible for jobs up to $1000, and  makes you more available for pro events. The Elite costs $10 a month with up to 100 images, a web portfolio, all jobs of all values, and gives you access to 'major' campaigns.
While the term 'major' is likely misleading given the examples provided in the 'about' video, it appears you essentially become visible and eligible for jobs of greater size. It also illuminates the larger power of Romey, that it's not just about bringing photographer and model together, but is a platform that can be used by brands and agencies to find said talent, and put together events.
This is where Romey becomes most interesting, because should this gain traction, many smaller companies or even large ones, will be able to find talent here and talent that isn't necessarily represented already. They can also do it on the 'cheap', which means they may actually give it a shot. Does it make sense to join the Elite yet? Not for me to say, and it's a standard catch-22 where the more people who join give it a better chance for its and everyone's success, but right now there's likely not much there, if my short experience with it is anything to go by.
Searching as a photographer in the basic version, there are hardly any users. I mean, I live mostly in Miami, but I searched other places I frequent like London, Toronto, and other hubs in the US like LA and NYC, and it's about as empty as a hermit's address book. Even apps like ProPhotoShoot are much more populated. That said, it's an Australian company and it's young, and given the broader and more dynamic platform that Romey is, it has potential – it's just not realized yet.
Should You Get It?
The app is pretty fluid for something so new, but it's not faultless. The pop-up info icons are annoying as hell because you can't move on unless you tap them all – and the inability to organize images in the order you like once you've uploaded needs to be addressed. Speaking of your portfolio, the first image is the 'header' image when someone sees you, but Romey doesn't tell you it doesn't format it to fit properly and you cant drag to center it, so I'd use a landscape shot to be safe. otherwise, it's intuitive and clean.
So, at the moment does it make sense to sign up? Depends where you live and depends on you urgency. I would say downloading the free app and checking it out is a good idea, and you may find gold, but if you're in need of talent or a team this weekend (as of this writing), it's not your bag, baby.
You can check out Romey on their site, and get the iOS app here, and Android app here.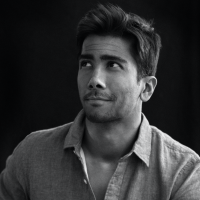 Kishore Sawh
A photographer and writer based in Miami, he can often be found at dog parks, and airports in London and Toronto. He is also a tremendous fan of flossing and the happiest guy around when the company's good.