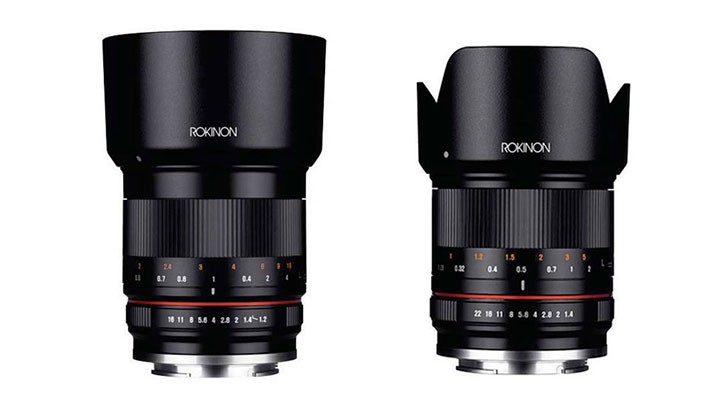 Welcome to our roundup series where we will hit on several gear news and rumor topics each day. This gives you a chance to get caught up on all of the day's news and rumors in one place. Make sure to check back daily for the latest gear news, rumors, and announcements.
Rokinon Announces 50mm F/1.2 & 21mm F/1.4 Mirrorless Lenses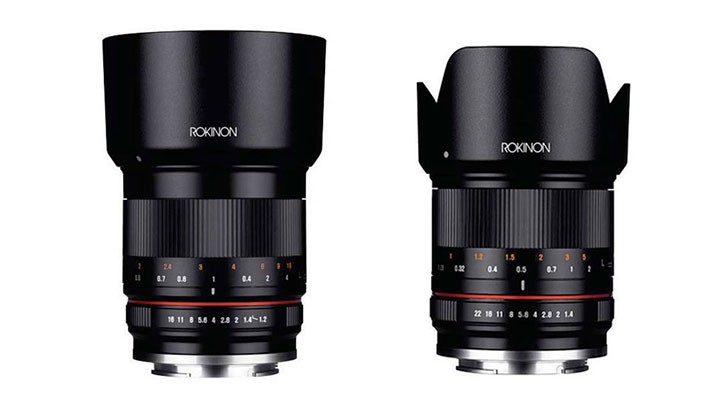 Rokinon has just announced a pair of new lenses for APS-C and lower mirrorless systems (these will work on A7 bodies, but will require crop mode to be active). The new fast primes will be very appealing for mirrorless shooters, especially on the Sony side, where there are not many F/1.4 or faster lenses available.
The 50mm F/1.2, the longest of the two lenses, is a fast, bright lens offering a long perspective, ranging from a 75mm to 100mm equivalent focal length, depending on mount choice. This lens will be great for portraiture and other similar endeavors.
The 50mm F/1.2 is the more expensive of the two lenses (gotta pay that F/1.2 tax) and comes in at $549, making it a really attractive option for those wanting maximum speed. If interested, you can pre-order on B&H today.
The 21mm F/1.4 is a fast, wide-normal lens that ranges from 31mm to 42mm equivalent focal length depending on your mount choice. For those looking for that closer to 'normal' field of view on Mirco Four Thirds, and on Sony/Fuji/Canon APS-C these will offer a decent semi-wide FoV for environmental portraits and the like.
The 21mm is not a whole lot cheaper than the 50mm, coming in at a $50 discount, for around $499. Again, this should be a pretty attractive price given the speed of the lens. You can also pre-order this lens today over on B&H.
Some may wonder about why you would opt for a new manual focus lens like these when there are many film-era fast primes out there that can be had for much cheaper. I have two points, being a fan of using film lenses myself. These newer lenses make use of the latest lens design technologies, and will correct for issues like CA and distortion much better than most any film-era lens.
In addition to that, these new lenses feature some of the latest lens coating advancements, again improving performance against CA, Ghosting, and Flare; things that, depending on the film-era lens, can be an issue.
That said, the character of film lenses can be a winning combination as well. So, in the end, it really comes down to your visual preferences, and your decision should be based on that – not the number of zeros on the bill.
Canon 85mm F/1.8 IS Coming In 2016?
A very interesting rumor hit the Canon rumor mill over the weekend, pointing to the possibility of a stabilized 85mm F/1.8 for next year. Canon's current 85mm F/1.8 is already a favorite for budget shooters and pros alike, but the addition of improved optics, combined with image stabilization could be a winning formula in my opinion.
It would continue the trend of lens makers adding image stabilization technology to virtually every lens that they can to add value and give photographers a reason to spend more money on lenses.
Another interesting piece to this rumor was that Canon may also release an EF-S version of their stellar EF-M 22mm F/2. This is a rather odd rumor, given that Canon already has several EF-S compatible lenses in that same range already available. Don't get me wrong, the 22mm is a stellar performer, but I'm not sure the demand is there for a full fledges EF-S version of it.
At any rate, 2016 is still a ways off and a lot could happen between now and then. It will be interesting to see how Canon moves forward and responds to the ever growing Sony threat.
New Sony AF Patent Shows Glimpse Inside their Impressive Tech
A new Sony patent has emerged that sheds some light into their impressive AF technology. As we all know, the Sony A7R II has really stepped up the game as far as mirrorless AF systems is concerned, and this patent sheds some light on what Sony could be working on to take it to an even higher level in the future.
Imaging Resource, who has managed to decipher the Japanese and put the patent into digestible English, had this to say about the patent:
A recent patent publication from Sony shows off a new technology that could improve low-light autofocus performance in mirrorless cameras that use phase-detection or hybrid autofocus systems with the help of uniquely shaped microlenses atop individual pixels.
Could this mean mirrorless cameras might soon focus as well as current SLRs? Possibly. Phase-detection autofocus in mirrorless systems will perform far better with less light than ever before if this patent comes to fruition.
If you are interested in learning more about this patent, and don't want to learn Japanese, I highly recommend heading over to the IR article here and taking a look at it. It does a great job explaining what this tech could mean for Sony mirrorless cameras going forward.
What are your thoughts on today's roundup? What news/rumors did we miss? What would you like to see covered in future roundups? Leave a comment below and let us know what you think!