Welcome to Time Out with Tanya, where I've put my fast paced graphic design career on hold in favor of adventures in motherhood. I'm capturing every moment on camera and you can come along, if you'd like. Sign up for my weekly email here so you'll never miss a Time Out.
For those photographers, like myself, who aren't lucky enough to live in a location with gorgeous weather year round, winter can be a challenge. If business is slow, you could always take the time to work on marketing and other non-shooting activities (check out FIVE TIPS TO MAKE THIS OFF SEASON THE BEST EVER for more ideas), or you could embrace the change in weather and move forward with portrait sessions. Surprisingly, my business picks up in November and December, probably because kids are back in school and moms want photos for cards and gifts during this time. Here are some of my strategies for totally rocking your portrait sessions all winter long.
Shooting On-Location
Perhaps the biggest barrier to shooting during winter for on-location photographers is nasty weather and finding beautiful locations. Honestly, I prefer the muted tones of the landscape in winter over the brighter colors of spring, summer and even fall. Grey overcast skies, soft straw colored grasses and, if you're lucky, snow, make very flattering backdrops for portraits. Weather is just as likely to be bad in the spring so I just go with it and come prepared for any situation.
Dress for Success

I always tell my clients to dress in fitted layers when it's cold out. Bulky coats aren't flattering so I encourage them to wear fitted sweaters or jackets. Gloves and scarves are ok if they want that look, especially if it's snowing. If it's really cold out, I have them wear their bulky coats while we're setting up for shots and then remove them while we're taking pictures.
I, myself, dress in layers since I tend to start out freezing and then rapidly get hot and sweaty while shooting, especially if little kids are included in the session and I have to chase them around. I wear fingerless gloves with a mitten cover like these available on Amazon. They allow access to all the dials on my camera, but I can cover up my fingers if needed while we're walking to the next location, etc.
Take the Right Gear
For me, less is more when it comes to gear and photographing families. Kids and dads aren't patient enough to wait around for me to set up lighting. Plus, I tend to take my families to parks where climbing, walking and interacting are involved during the session, so lugging a bunch of heavy gear gets in my way. I simply take my Canon 5D Mark III and Canon 24-70 f/2.8 L II lens and I'm good! I do bring a back up lens just in case something were to happen to my primary lens and I always have a speedlite on hand.
I also take a collapsable reflector that's easy to carry and my secret weapon, especially for winter sessions, a lightweight water resistant blanket. My favorite is the Bleacher Blanket from Thirty-One Gifts. It folds up to be used as a cushion and has handles for carrying. It's very lightweight and not bulky, plus it's made of water resistant nylon on one side and soft fleece on the other.
It comes in so handy when the ground is a little wet or muddy and I want to pose my clients laying or sitting on the ground. I've also used the fleece side as a make-shift black background (it currently comes in grey and navy, too). You can also ask mom to bring a blanket that coordinates with their outfits or has special meaning to the family, but just make sure they are ok with getting some mud on it. The great thing about the Bleacher Blanket is that the nylon side just wipes clean, or you can throw the whole thing in the wash. AWESOME! Order here.
Have a Plan B
This little bit of advice holds true for on-location sessions all year. Unless we're shooting on a location that has particular importance for the client, I don't want to cancel because of bad weather, so I always have a back up location that is shielded from the elements. Whether it's a covered pavilion, empty parking garage or in a rented studio, I would rather change plans than cancel. This brings me to my next two points…
Shoot in the Client's Home or Office

If it's simply too bitter cold to go out, consider going to your client's home for a session. This works particularly well with babies and very small children or kids with special needs. Being home means kids don't have to be loaded into the car to get anywhere on time. If baby has a blow-out diaper she can just be changed into a new outfit on the spot. Dad can have his picture taken and then go back to watching the game while we spend an hour taking pics of the kids. Plus, you can capture priceless images of the family in their natural environment. I've also gone to offices for headshots or used the lobby of a hotel or business, with permission of course.
When shooting indoors, finding or creating great light is the challenge, of course. Pye offers some helpful tips for shooting indoors with natural light in our new Photography 101 course. I highly recommend you check it out! If natural light isn't available, you might have to bring in some extra light. In keeping with my "less is more" gear philosophy, I generally take a couple speedlites and trigger with two lightweight light stands. I can either bounce light off the ceiling or wall or use an inexpensive umbrella softbox to diffuse the light.
Rent a Studio Space
Renting a studio is an idea I've been considering for years now, especially for the winter months, but as a part-time photographer, I just could never justify the expense of rent plus all the furniture, lighting, insurance, utility bills and other expenses associated with having a studio. A studio sharing arrangement is something I've been seeking, but just couldn't find until recently. I've finally found a great studio in my city that will rent just 10 hours per month to me for full use of their studio, all lighting gear, backdrops and props included for a fee I can totally afford. I'm so excited to be able to do many of the personal projects I haven't had the space to execute until now. Stay tuned for more about that…
Do you have portrait sessions booked this winter? Tell me, how are you getting creative and making it work?
CREDITS: Photographs by Tanya Smith are copyrighted and have been used with permission for SLR Lounge. Do not copy, modify or re-post this article or images without express permission from SLR Lounge and the artist.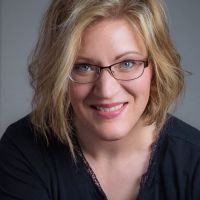 Tanya Goodall Smith
Tanya is the owner of WorkStory Branding Photography in Spokane, WA. Businesses hire her to create story-telling content that sells their high end products and services. She also teachings photographers her unique business model for making serious money as a corporate and personal branding photographer. Find her at
workstoryphotography.com
and
workstoryeducation.com