Summer began, and as summer does, prompted people to shed clothing as if some sort of cathartic molting. Women swap parkas and pants for tanks and skirts, and men swap jackets and trousers for t-shirts and shorts. That's not the only thing that gets shed, as so do inhibitions. The start of summer means the start of summer flings, and now that summer's just ended, many of those are probably ending, too. If you're stuck with a summer's worth of selfies with a now in-significant other that you'd rather forget, then this tutorial is for you.
Here Aaron Nace is going to show you a great, and relatively painless way, to totally remove an ex, or anyone for that matter, from a photograph using Photoshop. In one of his more humorous, yet useful tutorials, Aaron takes an image of 'Kimberly' and 'Eric', and decides Kimberly would do quite well on her own, and cleanly removes Eric showing you how he did it along the way. The result is a pretty portrait of Kimberly which she can probably use for her newly formed Tinder profile.
Knowing how to do this properly makes all the difference in the world. Nicely, the tools he suggests to use will be familiar to most everyone, and essentially re-purposes their use, and without a multitude of masking and layering. What you don't know (maybe the pen tool), you can easily pick up from the video, and in this case, the pen tool being the method of choice, makes it simple to get clean lines without the use of a tablet.
That said, however, for the cloning and painting, I would always suggest a tablet for more fluidity, and accuracy. If interested you can see some reviews of the tablets I use most here and here.
As always, if you are a fan of Aaron's teachings (and who isn't?), be sure to check back here for updates, and follow along with Aaron on YouTube and Phlearn. You should also consider becoming quickly adept at Photoshop with the Phlearn Photoshop 101 & 201 sets as they are extremely comprehensive, and will have you quickly doing things with Photoshop you may have otherwise thought too complex, or didn't even know you could do.
Source: Phlearn.com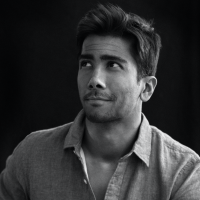 Kishore Sawh
A photographer and writer based in Miami, he can often be found at dog parks, and airports in London and Toronto. He is also a tremendous fan of flossing and the happiest guy around when the company's good.