Welcome to Time Out with Tanya, where I've put my fast paced graphic design career on hold in favor of adventures in motherhood. I'm capturing every moment on camera and you can come along, if you'd like. Sign up for my weekly email here so you'll never miss a Time Out.
Steve Pellegrino is a frequent reader here at SLR Lounge. He recently commented on the unconventional shots of the Space Needle in my article, A TRIP TO THE SPACE NEEDLE WITH THE PANASONIC LUMIX DMC-LX7 and mentioned his own street photography project featuring another well known architectural landmark, the St. Louis Arch. I've never been to St. Louis, and I was super curious to see his photos. When he sent me a few previews, I knew I had to find out more. Steve's images are an inspirational study in how to create compelling images of a subject that has become passé because it's photographed so often. Find out more in our interview…
Tell me about yourself and your photography project.
I didn't take the traditional path to professional photography. Almost two years ago, after 30 years in the entertainment industry, I decided to take my life long hobby and turn it into my full time job. I'm a documentary photographer, so I strive to tell a story of an event through a series of photos. My project, Reflections of The Arch, was developed as a personal challenge to myself to take something I see everyday and find a unique vision for it.
Where did you get the idea for your project?

Another photographer and I were on a photo walk in downtown St. Louis and he suggested we go to the Gateway Arch and shoot some photos. I was resistant because it's the obvious photo to take in St. Louis. It's the most photographed structure here. He mentioned that a few years earlier Joel Meyerowitz did an Arch photo project and published a book on it. As it turns out it was over 35 years ago and he was commissioned by The St. Louis Art Museum for an exhibit. Meyerowitz published two books as a result of the work he did in the late 70's. But it gave me a spark of inspiration. Before I ever looked at his work, I decided to take on the project as a creative self-challenge and see what I could create. I didn't want Joel's work to influence me.
Tell me about your journey to becoming a photographer?

I'm completely self taught. My grandfather was a Leica shooter and he inspired me when I was a teen in the 1970's. It was always a hobby over the past 35 years, however, I never saw a career path until about two years ago.
What's in your camera bag?

I have two kits, a Fuji X Series kit and a Nikon kit. All of The Arch photos were shot with the Fuji X cameras.
The Fuji X cameras:
FujiFilm X100 which many times I use as is, but I like to add the TCL-X100 Telephoto Conversion Lens to give me the 50mm focal length that I love.
FujiFilm X-E1
FujiFilm XF 18mm-55mm lens f/2.8-4
The Nikon Kit:
Nikon D7100 w/grip
AF-S DX 18mm – 140mm f/3.5-5.6
Nikon FM2 (film camera) I still love to shoot film. I recommend everyone shoot film.
Nikon AF 50mm f/1.8
Is there anything you wish was in your camera bag?

A Leica M3 with Summilux 50mm f/1.4
What's the biggest challenge you have faced as a photographer (and in working on this particular project) and how have you overcome it? Or are you still working through it?
Specifically with this project, I had to figure out how to photograph The Arch in unique ways. It was beyond just shooting it at a different angle, but to show it in a different context for people who have only seen the typical photos of it. Once I figured out some sort of direction it became easier, and now that my mind is open to it, I see new ways to shoot it all the time.
What's your vision for the future of the project?

I see this as an ongoing project. I've been working on it for only 6 months, but I haven't shot The Arch through the four seasons. Fall with the changing leaves on The Arch grounds. Winter when there's is snow on the ground. There are a lot of renovations happening on The Arch grounds right now that will take two years to complete and I've been including that into the project as well.

This project has branched out into two other projects – people photographing The Arch and people touching The Arch.
Anything else you want to share with the photographic community?

I'm grateful I learned to shoot film before digital. I still shoot film, not only because I love it, but also because it helps me to slow down and really think about what I'm shooting. I recommend everyone learn to shoot with film. You don't have to make it your religion, but buy an inexpensive Canon AE-1, half a dozen rolls of Kodak Portra 400 and half a dozen rolls of IIford HP5 Plus. You will be a better photographer because of it.
Great advice, Steve! To check out more of Steve's work, visit his website and follow him on Twitter.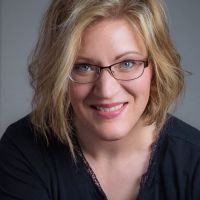 Tanya Goodall Smith
Tanya is the owner of WorkStory Branding Photography in Spokane, WA. Businesses hire her to create story-telling content that sells their high end products and services. She also teachings photographers her unique business model for making serious money as a corporate and personal branding photographer. Find her at
workstoryphotography.com
and
workstoryeducation.com