If you were to ask the layman about a company producing products with cutting edge tech, it's no doubt it's Apple that will come to mind, and whether they voice it or not it's the iPhone or iPad they'll picture. And while the original iPhone was groundbreaking, most everyone else has caught up, except one: RED, who, from what we can garner so far, may have surpassed.
That's a bold statement, but perhaps not as bold as the statements RED is making in their announcement this morning with the arrival of RED HYDROGEN. That's right, the high-end camera makers whose gear is coveted industry-wide has announced a smartphone called Hydrogen One, and it's being touted as the "World's first holographic media machine, in your pocket, no glasses needed."
The Hydrogen One is a,
"Standalone, full-featured, unlocked multi-band smartphone operating on Android OS that just happens to add a few additional features that shatter the mold of conventional thinking.

Wearable displays not spoken here. It is no longer necessary to carry (or change) another device to enjoy multi-dimensional content. Experience "look around depth" in the palm of your hand, no glasses or headsets in sight."
The press release that's hot off the press is filled with statements that are, frankly, hard to digest because it appears to forward thinking and filled with catch-phrases/buzzwords that will be unfamiliar to many. But we know that the device is a media device with a 5.7" display that allows seamless switching between traditional 2D content, holographic multi-view content, 3D content, and games – all without the need of special goggles or glasses. And in addition it's said to be able to convert stereo sound into multi-dimensional sound.
It's all a bit much to take in, and what becomes clear is that this isn't so much a smartphone, as a media device that just happens to have phone functionality thrown in. Perhaps running the Android OS opened up some modularity for them and we know too from the press release that the Hydrogen One is the foundation of what will be an expanding multi-dimensional media system that will allow shooting higher quality photos as holographic images.
It should also be able to function as a monitor and such for RED cameras.We can garner from the single image that there is USB Type-C, microSD, and a headphone jack, but not even a glimpse at the display. If you have any further questions you can try to contact the company but we've heard that more details will be released closer to ship time, and that means it'll be a trickle.

Want one? Well, you can order one now and target ship date is Q1 2018. How much? Well, there are two versions with little detail on the differences. In fact, we just know there's the Aluminum for $1,195 and Titanium for $1,595. You can order one here.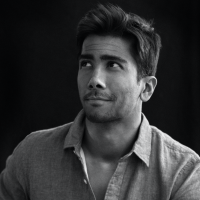 Kishore Sawh
A photographer and writer based in Miami, he can often be found at dog parks, and airports in London and Toronto. He is also a tremendous fan of flossing and the happiest guy around when the company's good.