Very few photographers have every asset or tool at their disposal to create their imagery. As a result, the lot of those pursuing this craft is to make the most of what we have by creating the illusion that we possess what we really do not.
However, the benefit of this is that we are constantly forced into the crucible of creativity the pushes us beyond our perceived limitations. This isn't always a glamorous process; in fact, it can be quaint and simple. But, it is no less effective. And recently, Miguel Quiles demonstrated this approach in his latest video on Adorama TV by shooting studio style portraits with available light.
Gear Used In This Shoot
Sony A7R3 – $3,198.00
Sony 24-105mm f4 – $1,298.00
A7R3 + 24-105 Bundle – $4,496.00
Comparable Alternatives
Nikon D850 – $3,296.95
Nikkor 24-120mm f4 – $1,096.95
Canon 5DM4 – $3,199.00
Canon 24-105mm f4 – $1,099.00
5DM4 + 24-105mm Bundle – $4,099.00
Third Party Glass
Sigma 24-105mm f4 – currently  $799.00 ; regular price $899.00
The biggest benefit of the photography studio is control over your light. In this setting, you can include or exclude as much light as your creative vision demands but, outside the sun is king. How do you do you regain at least a measure of control over your light?
Note: This example doesn't take advantage of off-camera flash or flash modifer. These tools would better equip you to control both the ambient light and the shape the light on your subject.
Shoot in the shade
You may not be able to escape the light but you can shoot where its impact is less dominating. As stated in the video, it helps if the sky is overcast because it turns the heavens into a world-sized softbox. However, the variations in the light caused by moving clouds can impact your exposure greatly from one shot to the next.
Use a Reflector
A reflector is a portraits best friend. It is always there adding a little something extra that know you couldn't do without…in most cases. In this scenario, it fills the shadows and adds some pop to an image that would be considerably more flat.
Use a backdrop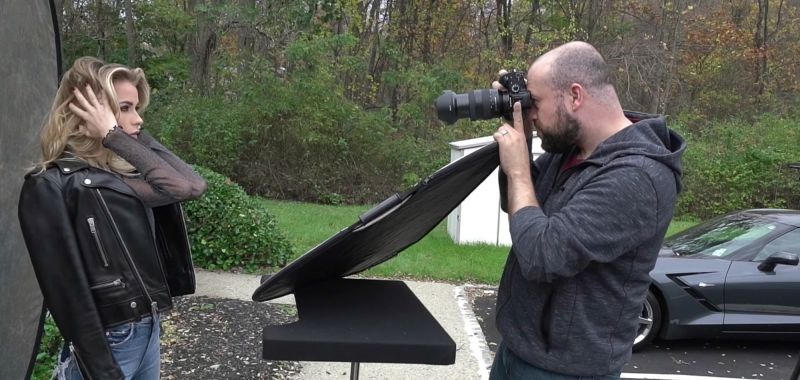 If your goal is to create the illusion of a studio portrait, your neighbors rose bush or the bustling cityscape in the background will obviously dispel that illusion. A backdrop like the one seen in this video or even a white, gray, or black wall will grant you the best opportunity to isolate your subject and achieve the studio look.
Thoughts…
The lighting in studio portraiture displays the intentions of the shooter. What this means is that it is evident that the lighting is positioned in order sculpt the face and highlight the features of the subject.
The sun has no such intentions. It only cares about dropping mad rays on the face of the earth. Which is why I feel this particular exercise succeeds in producing beautiful images but, falls short of truly simulating the studio look. Perhaps, with some post-processing, they would get closer, but SOOC studio shots would be easily identifiable next to these. The eyes don't pop even with the reflector and the flat lighting in the image doesn't allow the subjects face dictate where my eyes should look.
That being said, this a good option for anyone who doesn't have a studio.
You can follow Miguel Quiles' Instagram here.
You can follow Adorama TV here.
Articles on Outdoor Portraiture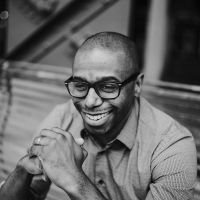 Wendell Weithers
Wendell is based in Atlanta where he shoots events, portraits, and food photography. He also supports his wife Andrea as she runs their cake design business, Sweet Details. Instagram:
Wendellwphoto