One of the many ways that technology has impacted photography is regarding accessibility. With mobile apps such as Instagram, 500px, and Flickr, being able to push photos at the whim of any cellular connection, it only makes sense, or so it seams, for the importing, culling, and editing be just as accessible and mobile, and just last July, Adobe's Lightroom Mobile released, which allows just that.
All types of RAW files can now be synced to your mobile device for importing, culling, and editing purposes. Although these are great functions to have on a phone, one must ask: Are these functions efficient?
Internationally acclaimed travel photographer and educator, Elia Locardi, seems to have an answer, and in the video herein he walks through the process of recreating one his most famous images underground in Stockholm, all via Lightroom Mobile.
GEAR USED IN WORKFLOW
Elia's workflow begins with plugging in an SD Card reader which triggers an import dialogue, natively, on Apple's iPad. After making sure that the desired photos are fully imported onto the iPad, Elia opens up LR mobile and creates a new collection called 'Stockholm, Sweden' where he then clicks "add photos from camera roll". From here, all imported photos are added onto LR Mobile and synced to the catalog which he opens on his desktop later.
While on his iPad, however, Elia highlights a couple key features that he takes advantage of before going to LR Desktop:
LOCAL ADJUSTMENTS

TWO FINGER TAP FOR RATING AND CULLING

And, Once you're ready to see your photos on the desktop, open LR Desktop and create a new catalog, then sync LR mobile to the specific catalog and your photos will begin to populate:

What are your thoughts on Lightroom Mobile? Do you find it convenient? If you're reluctant to even try it, why? Let us know in the comments below. And make sure, if you haven't, check out Photography 101, where we teach how to get professional style photos using kit lenses and camera bodies. Also check out Elia's work here, which really defines what travel photography should be.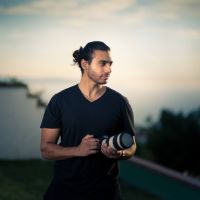 Bilal Akhtar
Bilal Akhtar is a 27-year-old LA native, who, when not taking photos, is using music, photography, and storytelling to create elemental art: www.instagram.com/theelementalarts To see his work, visit his commercial and wedding portfolios: | https://bilal.myportfolio.com | www.momentsbybilal.com | www.instagram.com/momentsbybilal www.facebook.com/momentsbybilal