If having it rain on your wedding day is on the list of things you don't want to happen, this one tops it all. This past weekend, the Two Bulls Wildfire in Bend Oregon, almost stopped an outdoor wedding ceremony from taking place. April Hartley and Michael Wolber were set to be married at an outdoor location, when right as the bride was to walk down the aisle, firefighters pulled up and asked everyone to evacuate.
The parents of the couple pleaded to firefighters to allow them to do the ceremony, as the guests were already seated, the bridesmaids and groomsmen were already in place and the groom wanting nothing more than to marry his bride that day at their special spot. The firefighters changed their minds, relented and allowed the couple to do quickly do the ceremony. As the guests and other wedding vendors made their way to a backup reception location, their photographer Josh Newton snuck the couple away quickly and snapped a few photos of the couple with the wildfire as a dramatic backdrop before evacuating. Posting the above image (taken on his iPhone) on Instagram, it quickly went viral with thousands of likes and shares.
The rest of the wedding went off without a hitch, the couple has a great story to tell and has some amazing images to back it up, making the most out of an unexpected situation. The fire has burned over 6,000 acres at the time of writing, with no injuries or serious property damage, according to a news report. According to Josh, they were about 10 miles away from the fire and very safe as all the dangerous roads were blocked by the police and firefighters.
Josh was kind enough to send us some other photos from the day, taken with his Canon 5D Mark III: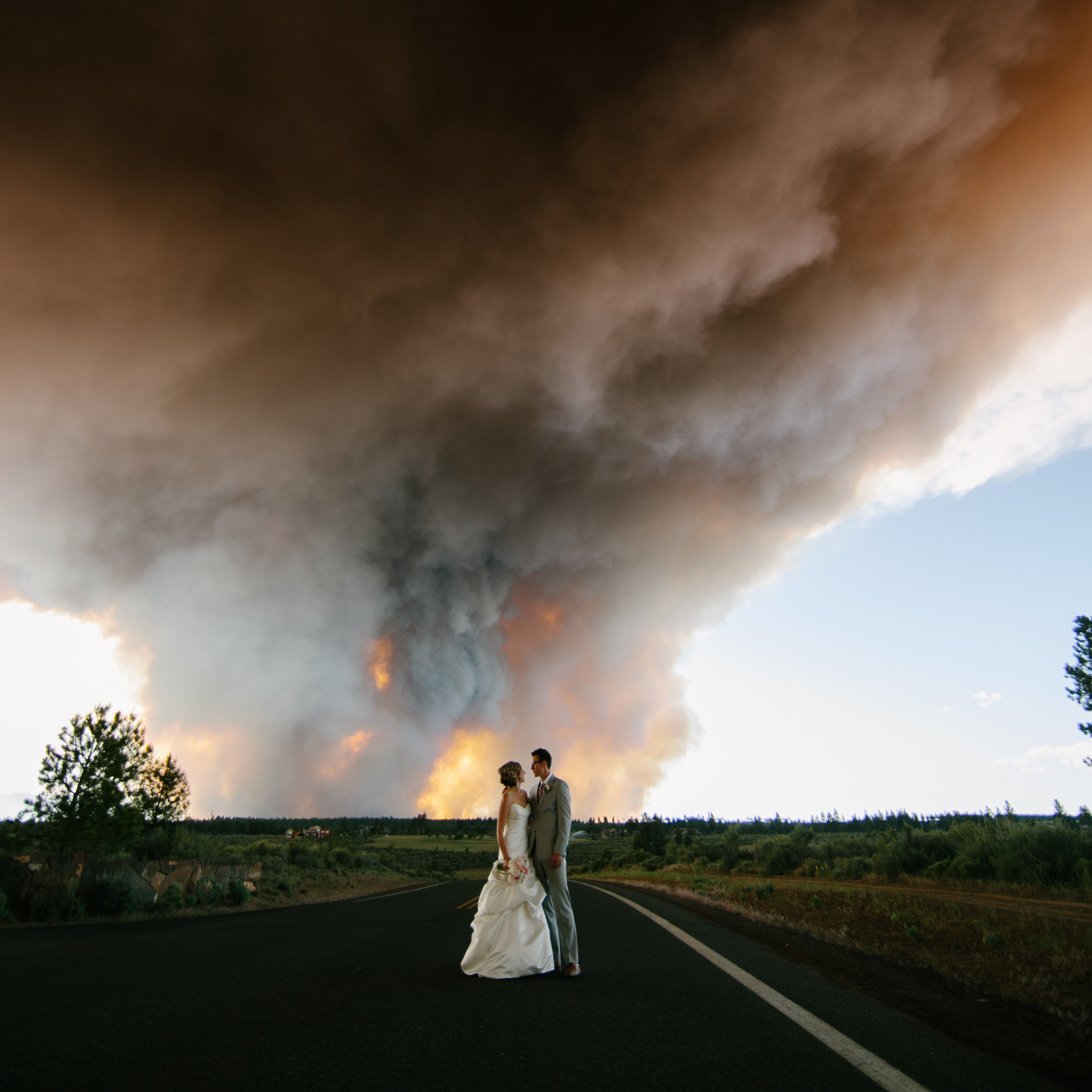 As there are wildfires going on right now around the country, our thoughts go out to the firefighters and their families.
To see more of Josh Newton's work, visit his website.
[via OPB News Blog]
Hanssie
Hanssie is a Southern California-based writer and sometimes portrait and wedding photographer. In her free time, she homeschools, works out, rescues dogs and works in marketing for SLR Lounge. She also blogs about her adventures and about fitness when she's not sick of writing so much. Check out her work and her blog at
www.hanssie.com
. Follow her on
Instagram