I'm so excited to share this interview with you today because it's with a photographer who has been an influential mentor and teacher to me over the last few years. Matt McDaniel of Matty Photography, recently opened a brand new 3000 square foot studio in downtown Tacoma, Washington where he creates awesomeness every day. In just a few short years, Matt transformed his weekend hobby into a full-time career creating demand for his unique, high-end portraiture and commercial photography. Read on for a lot of wisdom and inspirational motivation to quit your day job…
What got you started in photography? 
In a previous life, I was an I.T. professional. Alongside managing computers and networks for the companies I worked for, I provided web and graphic design services. It was my creative outlet at the time. One day the marketing manager stuck their head in my office door and asked me if I knew how to take pictures. At the time, I worked for a high-end boat manufacturing business, and I knew if I said "yes" to the question it would mean I'd get to go spend time outside playing on the premium, open-water boats in the bay. An easy choice really, spending time stuffed in an office or playing on boats out in the sun? They handed me an entry level DSLR, a couple lenses, and I learned as I went.
Prior to that moment all I had done was take casual walk-around shots on my days off with a point 'n shoot, so the DSLR was very foreign to me, like a Rubix Cube. So I started in a very extreme environment—my face stuck in a camera while I zipped around in a "chase boat" capturing another production boat, often averaging speeds of 40+ knots and in rough water. As you can imagine, sea sickness is brought on much faster when you have your eye in a telephoto lens. Since that first moment on the water, my every day has been an obsession with photography—at first learning the very basics with understanding and taking full control of a camera and then moving on to the next skill set up the ladder. I started turning out some pretty solid stuff and employees of the same boat biz started asking me if I could take their family or child's senior photos. That was the beginning of my photographic journey.
How long did you "practice" before starting to charge for your services? How did you know you were ready?
I shot three years or so before I really started flirting with the idea of creating a business around my photography. I knew I was "ready" when I felt I had enough experience as a photographer where I no longer felt completely surprised by the images I was creating (what I visualized in my head actually showed up on the back of the camera). I felt in control, understood the camera, light creation/modification, and how to accomplish a visual goal. In other words, if someone were to ask me to capture a certain feel and style of photography, I could pre-visualize the composition and then nail it for them when the time came, complete with stylized lighting.
The simple answer is that I created a demand. People see your work and they want you, specifically, to create work for them and are willing to pay a fair price for it. But I'm one that could never commit to a paying gig if I didn't know for certain that I was going to exceed their expectations. So I made sure that, above all, I was effective with handling a few visual curveballs tossed my way before I hung the "professional" sign out in the world.
How did you decide to quit your day job and become a full time photographer?
I had been shooting for about 5-6 years when I just started becoming miserable with my I.T. job. Don't get me wrong, it was a great job, awesome pay, benefits, etc., but as I grew as a photographer I wanted more photography time rather than IT work. I was sitting at a desk wishing I was shooting, concept building, or location scouting. All of my evenings and weekends were pretty much dedicated to photography already, and I hit that limit where I couldn't commit any more time to photography without freeing up time elsewhere. It wasn't fair to my current employer for my head to be somewhere else, nor to my photography clients I had with the "part-time" photo business I was running. I can't feel good about running any type of business where I can only service my clients "evenings and weekends," that in itself feels so amateur, and really bugged me.
I was building my reputation and portfolio as a photographer while holding down my full-time job. I went full-time photography when I had just enough photo business coming in to break even on bare-bones operating costs. Meaning I was working out of my house and paying all my personal bills. Going full-time was scary, but an extremely freeing experience as I had no restrictions on where or how much time I could dedicate to building and maintaining the business. Yet another blessing and a curse! I now work minimum 12-hour days, and I can't remember a day in the last 6 months that I took off, but I'm happy, working hard and doing what I love.
What barriers did you have to overcome to make the jump to full time photog?
Learning how to monetize my photographic skills, plain and simple. That's what it's all about if you are forcing yourself to generate all of your business and living expenses from photography. When it comes time to making money in photography, one of the hardest things to overcome is turning down low-paying gigs and clients who are price shopping and asking for things they shouldn't for next to nothing. My advice to photographers who are having trouble with "seeing the light at the end of the tunnel," as far as generating enough revenue to accomplish full-time dedication, is to forget about price shoppers and learn to be ok with saying the word "no." If you have a strong enough portfolio that your phone is ringing and people desire your work you need to charge them, and charge them enough to be able to wake up and do this everyday. I'd been shooting for years before transitioning to full-time, so photography experience was not the issue, I just had to slap a price on my services and product and market effectively.
What advice would you offer to photographers who want to pursue photography full time?
People inherently think that a highly skilled photographer equals a successful business, and it really couldn't be further from the truth. You have the creation of art (taking photos), and the business (making money); and the two sides really don't have much to do with each other. The photographic side should be there already if you are considering turning your skill set into your sole money generating source, lets not kid ourselves. It is the business side which is a monster amount of work, easily the all-consuming aspect of a photography business that takes up the vast majority of the time (and unfortunately what will make or break your success). I'd say that for every hour I'm making frames there are a minimum of 10 hours going elsewhere, especially if you are the face of your business. You'll be mostly be doing the not-so-fun housekeeping things and not taking photos.
The secret to a strong photography business is establishing practices and protocols that equally look after yourself and your clients. Art is subjective, business expenses are not.
Let's not forget about that all empowering word that so many photographers need to learn—no. Photographers are killing themselves because they are so scared to use that word. Sure, everyone and their grandma have cameras built into their phones, but you have to remember they are calling you for a reason. Only you can produce your work, and the people want it.
I can't count how many times I've picked up the phone to hear a showering of compliments about my work, only to then be asked how cheap they can get it for. If only compliments had monetary value, right? Those are not my clients, they shouldn't be your's either, and you can't feel bad about that if you are waking up every day trying to run a healthy business. Respect your work, respect your pricing model, and the clients that fit that model will come. FYI, you will lose most, if not all, of your existing client base when you transition to a sustainable pricing model, so the earlier you can do that the quicker you'll start growing momentum with a client base that'll sustain a healthy business.
Tell me about your new studio. What special considerations went into the design of the space, etc?
A lot of my heart and soul went into this new place. The Matty Photography studio is a part of one of the oldest buildings in Tacoma, with a ton of aspects that make it unique, like the huge exposed support timbers, you just don't see those any more. Everything in the space has both an aesthetic and functional consideration. For example, I didn't want to constrict the openness of the space with walls, so the only thing I have done to divide the space is hang long curtain runs of both black and white fabrics from beam to beam via high-tension wire. This provides a fun way to create privacy for the main shooting space, but on the functionality side I use the black to cut all the light out or pull back the black leaving only the whites to push lighting through to essentially create 10′ by 15′ soft boxes.
Of course I can open all curtains and the space is 100% open again for events and workshops. The dedicated shooting space walls are a neutral dark gray (to help avoid crazy color shifts from bounced light) and the rest of the space is a firetruck red, which sets a passionate mood I like to stay in while imagining and creating photography. To match the style of the building, I created a custom chandelier out of 30 pendant-style Edison bulbs, which is a real attention getter. At night the place comes to life with warm, dramatic spot lighting, with a loft office overlooking the space. The final product is a chill spot that all visitors love hanging out in (and my happy place). We do host private cocktail nights and other similar events that gravitate to the style of the space—often photo clients will inquire about using the space (and we love to make our clients happy).
What subject matter would you say is your specialty?
The majority of my work is focused around portraiture, but more conceptual and storytelling compositions. To that end, it does cater to more commercial focused clients, a lot of my work is used to market the people or products they are wearing. My lighting style tends to be on the dramatic, moody side—I love my shadows. It attracts a lot of fashion and product work, but we have a lot of people looking for personal portraiture who want something different, something with some kick to it. It draws senior photo clients. What teenager isn't looking to one-up their school mates?! Recently I've been producing a lot of hero and fantasy shoots for personal clients. Those are a blast for everyone involved.
I notice your assistant/girlfriend Alice is heavily involved behind the scenes. How important would you say having an assistant or partner has been to your success?
Alice is now a large contributor to Matty Photography. We have been dating since day one of her involvement with the biz, but in no way has that given her any slack! I eat, sleep, and bleed photography, so inherently she had no option but to get wrapped up in it. At first, she was just behind the scenes assisting with logistics, keeping toddlers and kiddos busy, and lending a hand with lighting. Then I tossed her a camera at an event I was working and said, "I need to capture this moment from two completely different angles at the same time, here ya go." She'd already been casually shooting for a bit and had attended every workshop I've instructed, so she was more than prepared, but it was still funny to see her face. She owned that event and every one since then (and it's been 3 years now).
Alice is now conducting her own conceptual photography shoots on the family end of the portraiture—from consult to photo reviews. I don't think running a business with your significant other is a great idea for all couples out there, but for us it has given us a common interest that is always evolving to the next thing, and evening conversation is never dull. It's never usually, "hey, babe, how was your day?" It's more like, "so, I found the perfect location for that family super hero shoot," and we work late even at home doing concept sketches and research.
[SLR Lounge Rewind: Find out more about how to work with your significant other in our interview with Rogue Heart Media]
On top of everything, we work super efficiently together, and that allows us to either finish shoots faster (always a good thing during that all-too-fast golden hour) or squeeze more compositions and locations into a shoot. When you start branching into flash lighting and all the gear juggling, assistants really do make all the difference on most occasions, and there are some shoots that just can't happen without them. Trained assistants are great, but even asking a buddy to help lug some gear or hold and tweak a light in stubborn winds can be a life saver. Most of my buddies are happy to help (and enjoy the couple rounds of beers on me after the shoot).
Tell me about your workshops and photographer meetings. Why is teaching so important to you?
My whole family are teachers, it must be in our blood or something. In fact, I initially set out to college in pursuit of my education degree, but I diverted to I.T. in the end. I love teaching, just not every day, all day, with a classroom full of children. But through my I.T. days, I found that I had a talent for breaking down the technical and translating it into easy to comprehend terms for people with computer problems. There was a teacher lurking inside me whether I had a piece of paper declaring it or not.
I'm a huge advocate of doing as much as possible at time of capture. I believe great photography is made with a camera, not a laptop. I'm a hands-on guy, it's how I learn best, and I know that is how it works for most visual-based minds out there. Remembering back when I learned this stuff through your common sources—forums, videos, online workshops, etc. I would read and watch and then go out to practice, and that's where I'd hit walls, immediately. Everything sounded good but when I was out in the wild, on my own, I'd get stuck on what functions did what or getting completely erratic results. I wished I had someone standing there helping me get over these hurdles, answering my questions while I was shooting, and pose additional situations to push my understanding and growth. After years of shooting demanding work for personal and commercial clients, I felt the need to provide everything I've learned through extremely hands-on workshops. It's a good blend of solid photography fundamentals wrapped around a business-minded approach (working with clients).
I teach beginner and advanced workshops, and they've been going strong now for four years. It took me over a year to construct them, making sure all of the vital foundation-building information was included, without-a-doubt correct, and presented in the best order. I use a learn-and-shoot method which helps concrete the new-found knowledge with legitimate camera time. The hours of hands-on shooting time, along with me posing additional challenges is key to student success in learning. The beginners class covers a fantastic set of key foundation-building areas including: exposure and composition fundamentals, perspective and lens selection, ambient light modification, working with subjects, and even post processing software overviews. In one weekend a student can go from not knowing how to turn on a camera to walking out sunday afternoon with great confidence shooting in full manual mode and creating the type of photography that excites them.
The advanced workshop is all about off-camera creative lighting. As you know, the lighting side of things is just as deep of a rabbit hole. I cover the science behind the flash exposure to provide vital troubleshooting skills, all of the gear possibilities and what they all do, a ton of challenging lighting situations, and how to direct subjects when using lighting—all while using my gear to discover what they like and don't like without having to buy anything upfront. Both workshops contain hours of both indoor and outdoor challenges posed for them to overcome. It's extremely important that they don't walk away from the workshops with just knowledge on how to shoot a handful of specific situations, but armed with the ability to troubleshoot whatever challenge they might encounter in the dynamic world we live in.
I created the 'Tacoma Photographers Group' about six months ago with the intention of helping the local photographic community to grow and strengthen. It is a Meetup.com based group, and we have over 90 members already. In that time, I've hosted all kinds of Meetups ranging through a number of hot topics for photographers; including portfolio building, pricing models, post processing workflows, and even relaxed movie nights. The wisdom shared at the Meetups are helping photographers start their hobbies and businesses off the right way, saving them years of potential mistakes and heartache. On top of everything, they are fun events to talk about what all of us love—photography.
I know you have a ton of gear. Tell me which pieces are essential, favorites, can't live without…
People always ask me which lenses I use most. I'm a huge location photographer and enjoy revealing the environment my subjects are in, so I love my Canon 24-70mm f/2.8, it's always on one of my camera bodies. And as a portrait photographer I can't live without my Canon 70-200mm f/2.8, right? 24-70 on one camera, 70-200 on another, that's my default setup going into a shoot. Shocking, I know…
On the lighting side, I've been shooting a lot with various sizes of parabolic umbrellas. They produce an interesting quality of light, with a bonus of killing most light spill. To someone starting their long, expensive journey down the lighting path, I always recommend the humble standard umbrella first. If I had to I could get away with using it for 80% of my shoots. It's just so versatile with a number of configurations (don't forget closing it down to make a "poor man's softbox"), cheap, easy to use, easy to pack. Even if I'm planning on using $300+ modifiers for a shoot, I always have a standard umbrella in my gear pack for piece of mind.
Anything else you want to share? 
I'll end with a message I tell all my workshops students. Gear is a necessity to reach our goals in photography, but what makes a great photograph is you, your understanding of light and how effective you are at using these tools to capture your vision. If you are reading this and "all" you have are an entry level DSLR and a Speedlite, sitting there letting all those marketing specialist convince you that you need the top-of-the-line, NASA engineered, flagship camera and lenses to make great photography… you're wrong, wake up.
Great artists have never been defined by their toolset. That'd be like complimenting a chef on a delicious meal only to credit the awesome oven they used to bake it, or Michael Jackson's shoes for his moonwalking ability.
I wrote an article not too long ago as a perfect illustration on the whole "gear vs. skills" topic, where I discuss my use of a free grocery sack to light the inside of a quarter-million dollar car for a Mercedes-Benz photo shoot. Work to master the gear you have, discover its strengths and limitations, be an observer of light, and go out and create amazing work.
Practically everything I know about off-camera lighting I learned from Matt in his Advanced Photography Workshop. The best thing about learning from him is that he doesn't just forget about his students after the workshop is over and everyone goes home. He truly is dedicated to his craft and to elevating the photography industry and community as a whole. I appreciate his admitting that running a photography business full-time takes a lot of work (12 hour days and weekends!!!) but that he loves what he's doing and wouldn't trade it for his old job (with benefits).
When did you quit your day job and focus on photography full-time? Or is that something you're working toward for the future?
CREDITS: All images have been provided by the artist. Photographs by Matty Photography are copyrighted and have been used with permission for SLR Lounge. Do not copy, modify or re-post this article or images without express permission from SLR Lounge and the artist.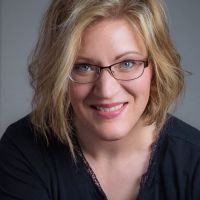 Tanya Goodall Smith
Tanya is the owner of WorkStory Branding Photography in Spokane, WA. Businesses hire her to create story-telling content that sells their high end products and services. She also teachings photographers her unique business model for making serious money as a corporate and personal branding photographer. Find her at
workstoryphotography.com
and
workstoryeducation.com