C-stands are a staple in photography, and probably one of the most versatile pieces of gear in your arsenal. However, they can be as cumbersome as they are helpful if you're not adept at using them.
At times, you will find yourself looking for ways to work around them because of their size and weight, but weight is simply one of the trade-offs of buying high-quality gear, and you want a C-Stand to be sturdy. Nevertheless, there are ways to remedy some of these issues and J.P. Morgan and the crew from the Slanted Lens are back with a quick tip of how to use C-stands.
Leg Placement
One of the questions that Jay P. frequently encounters is about where to position the legs of his C-Stand, and instead of a textbook method he's gone with he delivers his own.
If you have a shot where the floor is visible but you still need to maximize the reach of your C-Stand, you can align the legs of your stand with your camera's field of view to keep them out of the shot.
This tip runs counter to the conventional method of using a C-Stand which teaches you to keep your stand's longest leg underneath the extended arm to provide the most support for anything mounted on that arm. To overcome the loss of stability, you can rotate your long leg towards the back weight as seen below.
This might seem like a simple tip, but as J.P. demonstrates,  it can have an important impact on your stand's versatility, and if you only stick to the conventional way of using your kit, you may be limiting yourself. It's a good reminder that for every tool there's a hack.
SaveSave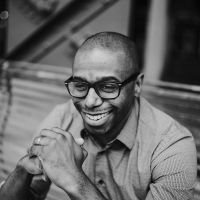 Wendell Weithers
Wendell is based in Atlanta where he shoots events, portraits, and food photography. He also supports his wife Andrea as she runs their cake design business, Sweet Details. Instagram:
Wendellwphoto