Profoto: Free OCF Beauty Dish & Speedring With To-Go Kit
Unless this is your first time on SLR Lounge, you'll likely know we love Profoto. Not only do they have the history of creating high-quality lighting equipment, but they continue to uphold their standards throughout innovation and evolution.
As with most quality things, Profoto equipment isn't often on sale. However, right now they are including the new OCF Beauty Dish that we've shot with and adore (see here), but a Speedring also when you get either the B2 or B1X. And you needn't get the larger kits to take advantage of the offer.
This OCF Beauty Dish is the new incarnation of one of the industry's most beloved modifiers. In fact, the piece is, as far as light modifiers go, so adored by beauty, fashion, and portrait photographers for decades now that they generally honor it by adding the definite article before the name, referring to it as The Beauty Dish. It has, as Profoto states, "…grown to become one of the most iconic tools for creating a creamy yet crisp light, often referred to as a 'beauty light'."
For all the adoration it received over the years (and like anything of the sort) it wasn't without flaws, and, in this case, it was simply the size of it. The original White Softlight Reflector is a good 20 inches across, and while that isn't exactly a larger unit, it isn't able to be collapsed or packed away easily, so it was a cumbersome travel companion; to love it meant to labor with it. So, in an effort to retain what was great about the original and make it more portable and arguably contemporary, the OCF Beauty Dish is a foldable, portable version.
In order to be foldable, it is, of course, made of fabric supported by rods, versus the metal of the original. Being Profoto made, they'll no doubt be made of high-quality fabrics, and the whole thing folds away to fit into a backpack. Since it also comes in at a weight of 1.2 pounds, you'll hardly notice it, and it's possible to hand-hold it, especially when used with the B2 heads, for which it was made to be used with, along with the B1's. (Apparently not built to be used with their other heads due to heat restrictions).
It's currently available in either silver or white, and comes with deflector plate, diffuser, and carrying bag. The white will no doubt be softer and arguably closer to the original, where the silver should deliver more contrast.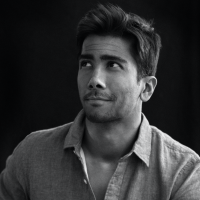 Kishore Sawh
A photographer and writer based in Miami, he can often be found at dog parks, and airports in London and Toronto. He is also a tremendous fan of flossing and the happiest guy around when the company's good.