Welcome to Time Out with Tanya, where I've put my fast paced graphic design career on hold in favor of adventures in motherhood. I'm capturing every moment on camera, and you can come along if you'd like. Sign up for my weekly email here, so you'll never miss a Time Out.
When it comes to on-location photo shoots, especially with kids, I like to keep it simple. Dragging a bunch of heavy lighting gear including huge battery packs, light stands, fragile, expensive strobes, modifiers and extension cords does not interest me. I generally rely on natural light on-location, with the occasional addition of a reflector or Speedlite. Until I saw the Profoto B2 AirTTL Photography Lighting Kit at WPPI this spring, that is.
This pint-sized, rugged little strobe kit, including a small battery pack, two lights, remote, extension cords and compact umbrella style modifiers, fits in a handy little carrying case. It's lightweight, portable and easy to set up in minutes without an assistant. Sounds too good to be true, right? That's what I thought. But, after watching Pye's initial review of the kit, I had to get my hands on it for myself.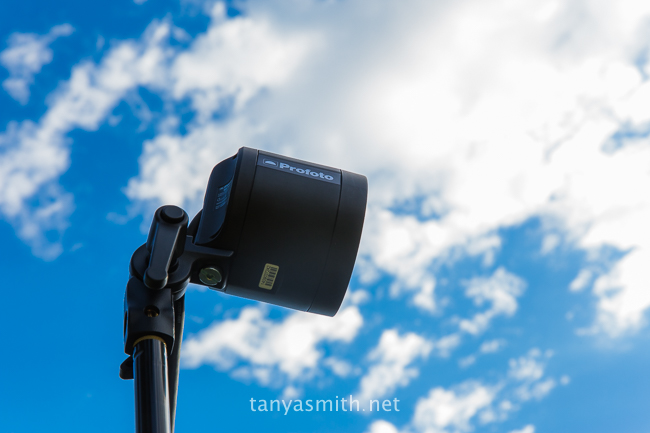 The Profoto B2 AirTTL seemed like the perfect kit to take with me on a recent trampoline shoot with my favorite models. We had some perfect stormy clouds rolling in on this day. I wanted to expose my images in a way that would allow the detail and shadows in those clouds to stand out. In order to do this and still have my subjects exposed properly, I would need to use an artificial light source.
My favorite thing about this kit is how easy it was to carry and set up. I had my camera bag on one shoulder, lighting kit bag over the other shoulder and light stands in another bag slung across my back. Being able to carry my entire kit in one trip from the car without killing myself is super important to me. I was able to set up the one light on a stand, including the battery pack, in a couple minutes. I opted for no modifier since I was ok with some harsher shadows and wanted to test the quality of light these produced while absolutely bare.
Without a flash, exposing for the faces of my subjects would leave the clouds blown out, losing all that wonderful moody detail. Plus, the lighting on their faces and bodies looks a little flat. I actually don't mind flat lighting, in fact, it's a trend for portraits that isn't going anywhere anytime soon, but for this particular shoot I wanted more dramatic lighting and shadows.
Exposing for the clouds without adding any light onto my subjects results in an underexposed or silhouetted subject. Here's my shot without the flash:
And here's a shot using the Profoto B2 set on TTL mode. This is straight out-of-camera without any retouching. The great thing about the TTL, especially when working with kids, is that once I dialed in my initial settings using the on-camera remote, I didn't have to think about the lighting anymore at all. If the kids moved forward or backward slightly, the flash adjusted accordingly. Awesome!
And here's my shot after using the SLR Lounge Lightroom Preset System and a little Photoshop on the background. Here's my preset recipe, in case you are wondering: 31b Color + Blue/Green Kick, 13d Neutral Punch + Cross Pop, 11b Light Film Grain. So fast and easy!
So, why not just use Speedlites, you might ask. Well, in this kind of lighting condition, when you need to overpower the sun, Speedlites generally don't have enough power, unless you use several at the same time. Plus, the recycle time is pretty slow so you can't fire off a bunch of shots in a row without the flash failing you. And, the batteries die quickly, so you have to change them out in the middle of the shoot.
Probably the biggest advantage of using the Profoto B2 over a Speedlite is the remote that allows you to change all the light settings right from your camera. In this particular case, adjusting the lights while high up on that light stand would have been a major time consuming pain if I had been forced to lower and raise the light stand every time I needed to make an adjustment on the back of the light, or change the batteries.
Plus, the controls on the battery and the remote are so intuitive. Even though I highly recommend you take a course in order to understand the principles of flash photography (like our Lighting 101 DVD Workshop) these were so easy to use I bet anyone could pull them out of the box and figure out how to use them.
The only bad thing about having had the opportunity to test the Profoto B2 AirTTL photography lighting kit is that now I've had a taste of its awesomeness, and I want to buy one. I was so, so sad when I had to box up the kit and send it back to Profoto! I'll be adding one to my kit for sure and using lighting more and more out on location, even with kids…
Links you might like:
5 TIPS FOR PHOTOGRAPHING TODDLERS WITHOUT LOSING YOUR COOL
PHOTOGRAPHY LIGHTING TIPS FOR SHOOTING IN TIGHT SPACES
CREDITS: Photographs by Tanya Smith are copyrighted and have been used with permission for SLR Lounge. Do not copy, modify or re-post this article or images without express permission from SLR Lounge and the artist.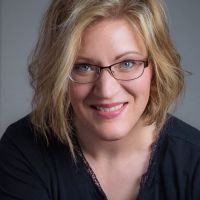 Tanya Goodall Smith
Tanya is the owner of WorkStory Branding Photography in Spokane, WA. Businesses hire her to create story-telling content that sells their high end products and services. She also teachings photographers her unique business model for making serious money as a corporate and personal branding photographer. Find her at
workstoryphotography.com
and
workstoryeducation.com