A while back, Profoto announced a major milestone by making their B10 flash series compatible with iPhone. This is the first time anyone has successfully brought professional flashes to smartphones, made possible by our proprietary AirX technology.
The appeal of the smartphone camera is on the rise among professional photographers, according to a new study among 881 professional photographers conducted by Suite 48 Analytics, a research firm focused on the photo & video industry.
Supercharging the iPhone with a professional flash does not only mean that a new breed of digital creatives can start competing on totally new terms. It also makes the smartphone an exciting addition to professional photographers' toolboxes – creating a bridge between what has been and what is yet to come.
Even though pro photographers typically own high-end cameras, 64% of the respondents take 50% or more of their photos with smartphones in their pastime. In addition, they are also starting to use smartphones for a portion of their work: 13% take 50% or more of their professional photos with their smartphone. Finally, 31% believe they take "more" or "way more" of their professional photos with smartphones than they did 12 months ago.
Pro Photographers and Their Camera Use study, is these devices' fast and easy workflow. You can capture, edit and post photos all through the same device, thus shortening the time from creative concept to published image. 21% of photographers surveyed use smartphone photography to support their own business on online placements.

The report also shows that 67% of the pro photographer respondents use flash for most of their professional images. Until recently, the use of professional flashes was confined to interchangeable lens cameras, which is why Profoto developed its Profoto AirX solution to enable its high-end flashes to be also used with smartphones, thus removing an important obstacle for pro photographers to adopt smartphones for their professional work.
Profoto believes that the integration of flashes across devices is key for the future of photography. Going forward Profoto continues to innovate and collaborate to ensure that professional users will get great light in every image, regardless of their choice of capturing device.
You might dismiss cell phones as unprofessional tools because they don't have big giant interchangeable lenses or good RAW image quality, but the reality is, we all know that many truly great photographs just aren't great because of which exotic lens you used, or how much raw headroom your files had. Most photos are great simply because the light was beautiful, the timing was perfect, and/or the subject was framed/posed creatively.
Read more on Profoto B10 On Location Flash here.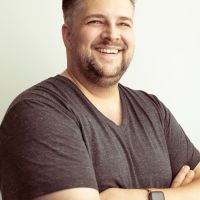 David J. Crewe
David J. Crewe is a full-time commercial photographer and Senior Editor with SLR Lounge. Based out of both Southern California & Las Vegas, Nevada. View his work and blog:
DavidJCrewe.com
Follow his Instagram:
@DavidJCrewe