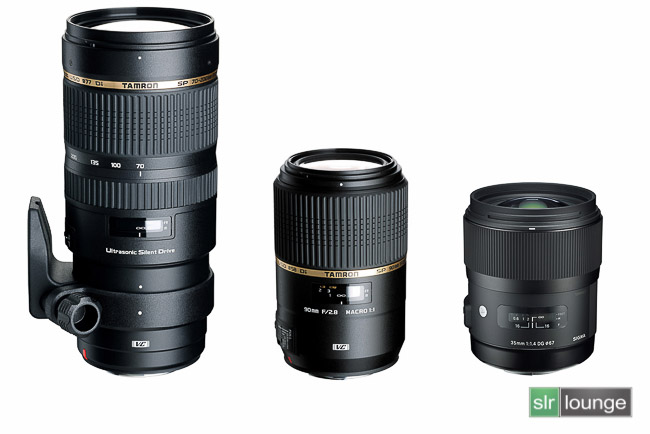 In the past few days we have received updates from both Tamron and Sigma regarding the pricing and availability of their newest lenses.
It seems to me that Sigma and Tamron (and Tokina) seem to have been stepping it up in the world lately.  Or have they?  Some elitists / purists will probably never admit that a third-party lens is actually on par with, let alone better than, the name brands.  In many people's eyes, Sigma and Tamron will always be known as the maker of cheap plastic kit lenses that fall apart in 9 months.
In my opinion that is an unfortunate outlook, because over the past few years the third parties have come up with some pretty amazing products.  Of course they're mainly known for just being the affordable alternative, however lately they have also been doing a great job of filling actual gaps in the name-brand lineups.  Lenses like the Sigma 50-150 2.8 EX OS DC, and the Tokina 11-16 f/2.8 simply have no equivalent in the crop-sensor lens market!
Sigma 35mm f/1.4 EX DG HSM (full-frame)
Click HERE to pre-order on B&H for $899
One major improvement compared to the cheap-o lenses has been in autofocus technology.  Sigma adopted HSM autofocus a long time ago actually, which uses the same technology as Canon's USM and Nikon's SWM autofocus motors.  In my experience, it is almost exactly the same amount of speed and accuracy as "name-brand".  Tamron and Tokina have also recently adopted similar autofocus technology; Tamron's is called SDM for example but it's pretty much all the same technology.  Some claim that the Sigma / Tamron lenses are just slightly less accurate in extremely tough lighting conditions, however in my experience even the average professional will not notice a difference.  For example, I have tested both the Sigma 85mm f/1.4 HSM, the Nikon 85mm f/1.4 AFS-G, and even the Canon 85mm f/1.2 L.  The Sigma is almost as fast and accurate as the Nikon, and both are much faster and more accurate than the Canon.  (Mostly just because the 1.2 is soooo much glass!)
Tamron 70-200 f/2.8 VC USD
(Click HERE to pre-order on B&H for $1499)
 Another addition has been stabilization in third-party lenses.  Sigma has "Optical Stabilization", and Tamron has "Vibration Correction".   Tokina has also developed stabilization technology, but to my knowledge it has not hit the market yet.  (In fact it's been nine months since Tokina announced their 70-200 f/4 with stabilization!)  Again, the differences between third-party stabilization and name-brand stabilization are not very significant.
Tamron 90mm f/2.8 VC USD Macro
(Click here to pre-order from B&H for $849)
So really, what does it come down to?   If the features and sharpness are roughly the same, why is the Sigma 35 1.4 is $700 less than the Nikon 35 1.4, and the Tamron 70-200 VC is $1000 less than the Canon 70-200 IS mk2.  (Without Canon rebates in effect, that is.)
In my experience, these days all it comes down to is two things:  quality control, and long-term reliability.  Third party lenses tend to be more prone to defects or performance issues out of the box.  I've owned two Sigma EX lenses in the past 5 years, and both of them had small issues that required service from Sigma once or twice.  It was a hassle, but the lenses performed amazingly the rest of the time.   Also, third-party lenses may need regular service more often than a name-brand lens,  just because of long-term reliability concerns.  If you're a heavy abuser of your gear and you plan on owning a lens for more than 3-5 years, you may want to either consider investing in name-brand equipment, or factor in the cost of regular service every 2-3 years.  Also in my experience, third-party lenses usually need autofocus calibration more often than name-brand lenses.  Not a problem for those of you who are geeky enough to enjoy checking your calibration every couple months…  ;-)
So, there you have it.  Third-party lenses can be a great investment and value.  Depending on your budget and shooting needs a Sigma, Tamron or Tokina lens might be perfect for you.  Of course stay away from the $139 Ebay specials and kit lenses, but that goes without saying right?  You get what you pay for.  But rest assured, if you're paying $850-$1500, you'll get a huge value for your investment.  Just know your options, know your needs, and be realistic about your ability to care for and maintain your equipment.
Take care,
=Matthew Saville=