There's been a lot of heated debates in the photography world the last few weeks about things we can do to stay busy and keep earning income during these incredibly trying times. From FaceTime portrait sessions and Zoom Meeting Projector Projects, to the riskier Porch Sessions, there's been no shortage of ideas thrown out there. But, you know some ideas aren't good when you've gotten the Canadians riled up! (I say this as a very passive Canadian who's immigrated to the USA). The Professional Photographers of Canada have issued an official statement calling for a pause on the "Porch Portrait" projects some photographers have been doing to both keep busy, and stay connected during this global lockdown.
[Related Reading: These Companies Are Helping Photographers During The Coronavirus Crisis]
The PPOC decided to send out the official statement after they received email complaints from several members and non-members who allegedly witnessed the risky shoot concept happening in their communities. complaints averaging upwards of 20-30 times a day according to the National Director Louise Vessey.
They reported that they've seen photographers bringing whiteboards and props to the photoshoots and handing them to their clients, as well as elderly family members traveling to be a part of the portrait sessions. Effectively, putting more people at risk. While the organization has received a lot of backlash since publishing this request, they still stand by the statement and encourage photographers, and the public to put a pause on things for now.
"We're not saying you can never do this, stop it [and] completely cancel the program. We're saying let's just wait, let's just wait until it's safe to do so."
I myself have had a few "head-butting" sessions in a debate over if we should or can do these types of shoots currently. Some states and cities don't have as strict guidelines as others, and even in the more locked-down areas, some will argue that if you take all the required safety steps, they should still be able to do it. Either side of the fence you stand on, it's definitely a touchy subject. Personally, as much as I want to get out and create and work with people again, I kind of agree with the PPOC statement. I've lost a few colleagues and friends already to this virus, and I just don't want to have that happen to anyone else. While this sucks for us all, we should still just wait until it's safer for us to gather in groups again. Here's hoping that day comes sooner than later!
Let us know what you think in the comments, and be sure to read the whole statement below from the Professional Photographers of Canada as well.
Read the Full Statement from the Professional Photographers of Canada Here;
There has been a lot of controversy on various Photography groups regarding the increasingly popular Porch Portraits/ Front Step projects, and variations. We have been contacted by several photographers upset to see this happening in their area when they are abiding by the suggested public health measures and are staying home. We have also heard from photographers who don't understand why they should not do these kinds of photography sessions, if they are being safe about it, are doing it for charity, and are following their region's suggested public health restrictions.
Our country is currently in the early phase of a Global Pandemic. Given the increasing number of cases in Canada, the risk to Canadians is considered high. Extreme measures have been implemented in an attempt to stop the spread of COVID-19. We are in the midst of a serious health crisis like nothing we could ever have imagined.
There is a lot of conflicting and confusing information out there regarding non-essential businesses with restrictions varying from province to province, and city to city. Photography is not an essential service or business. Daily, we hear the direction from Canada's top health officials repeating the same message:
Stay home!
Work from home (if you can).
Only go out for essential reasons.
Keep a safe distance of at least 2 meters from other people (if you must go out).
Go out to exercise but stay in your own neighborhood (in certain provinces).
For these reasons PPOC strongly recommends that these types of sessions do not take place at this critical time. We cannot be too careful! This virus is extremely contagious, and is killing people all over the world. Sadly, we are seeing the death count rise daily in our country. This virus can only move, if YOU move.
Louise Vessey MPA SPA, Chair of the Professional Photographers of Canada states "I understand that
photographers are suddenly cut off from most 'in real life' social contact and thus their clients; but this type of photography is not a necessary interaction, nor is it an essential service. Although most do it with the very best of intentions, it still leaves room open for mistakes that could potentially cost lives. Some photographers may knock on the door or ring the doorbell, pass someone in the street, a child could run over to hug them, or their built-in photographer instinct to go over and fix hair, pose the client and assist could easily kick in. These potential actions risk passing on, or catching COVID-19. "

"Of course I too have the 'itch' and would love to go out and have fun photographing porch sessions for charity, get some needed media exposure, bring a little light and fun into people's days and tell their stories. I get the 'feel good' aspect of this type of session. But now is not the time. These stories will still be there once the dust settles and we are on the other side of this Pandemic crisis. We can photograph and tell their stories when the time is right. This is serious! Any risk is not a risk worth taking no matter how small you believe it is."
The Professional Photographers of Canada is a not-for-profit organization that represents portrait, wedding, commercial, and military photographers from across the country. The Association promotes photographic excellence through education and exploration of image artistry and establishes standards of professional performance.
For further information visit our website PPOC.ca
Professional Photographers of Canada Board of Directors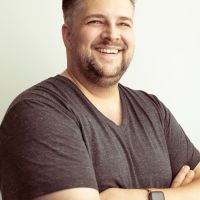 David J. Crewe
David J. Crewe is a full-time commercial photographer and Senior Editor with SLR Lounge. Based out of both Southern California & Las Vegas, Nevada. View his work and blog:
DavidJCrewe.com
Follow his Instagram:
@DavidJCrewe