As PhotoPlus Expo 2014 (PPE) draws to a close, I have to say I'm a bit sad. I've meet a lot of great people, watched great photographers like Joe McNally and Lindsay Adler speak, and played with all kinds of great gear. Unfortunately, I have to catch my train back home tonight and wait till next year to do this all over again, but not before I did one more lap around the trade show floor to check out some of the newer companies and products. Below are some of the smaller companies or products that I found on the trade show floor that really surprised me.
Knog | Qudos Action Light and Expose Smart Light
Knog a company based in Australia really caught my attention at PPE. They were showing off their Qudos Action light that compliments your GoPro and their new Expose Smart Light. I was impressed with both items.
Qudos Action Light Key Features
Up to 400 lumens using three LED Lights
Up to 4 hours of use time dependent on what mode and power level you are using.
Three light modes (wide, narrow, ultra wide angles) with high and low light output options.
Works with GoPro, action cameras, and DSLR cameras.
USB Rechargeable
Replaceable LI-PO Battery
Comes with a double bracket mount allowing you to mount the light perfectly next to your GoPro.
Waterproof up to 40 meters
5000 Kelvin Units Balanced
The Qudos Action Light is the light I've been looking for to use with my GoPro. This thing feels like it's meant to take a beating and keep on ticking, perfect for all the action photographers and videographers out there. The light output in all three modes and power settings were very impressive, and I loved that it has a cold shoe allowing me to use it with my DSLR when shooting video or even to catch focus on a dark subject. If you've been looking for a light to compliment your GoPro, you should really check out the Qudos Action Light.
Knog | Expose Smart Light Key Features
120 Lumes
Adjustable Brightness
USB Rechargeable
Bluetooth Connectivity
iOS App
Compatible with all iPhones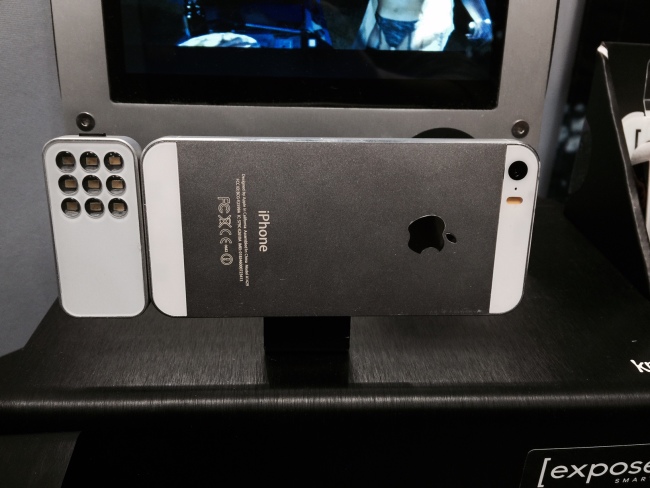 The Expose smart light is brand new to Knog's line up and was being shown off at PPE for the first time. The light is compact so you can slip it into your pocket or bag on your way out for the night. When paired with the Bluetooth and the custom iOS App, you could easily use the light off of your phone to create some off-camera style lighting to your iPhone images.  All in all, it's a pretty fantastic little light for your iPhone.
GoWing | The Lensflipper
The Lensflipper by GoWing is a pretty cool invention that I think almost any photographer could find a use for. Basically, it's a two-sided tool with each side having the lens mount of your choice. This allows you to easily change the lens on your camera and attach it the lens flipper so the back of the lens is protected and can be easily put back on your camera. It also has a neck or shoulder strap, allowing you to keep up to two extra lenses on your body so you can easily change out lenses. Honestly, it's hard to explain exactly what the lensflipper does, so watch the video below for a demo.
Currently, the Lens Flipper is available for Canon, Nikon, Sony A, and Sony lens mounts. If you would like to learn more about the Lens Flipper, check out GoWing's website. I personally think the Lens Fipper would be great for wedding photographers who are always on the move and need easy access to their lenses.
White Wall Photo Lab
The last surprise company I found is White Wall Photo Lab. White wall is based in Germany and specializes in gallery quality prints.What blew me away about White Wall was their metallic prints under acrylic glass, the fact that you can order unusual print sizes and the black and white photos they print on Ilford Baryta paper.
Acrylic Prints
Now, I know you can buy acrylic prints from other companies, but there was just something about the craftsmanship that goes into White Wall's acrylic prints. What I noticed when I was holding a White Wall acrylic print is that it felt like a high-end gallery product. Acrylic prints are something that I personally will be offering to my clients in the future. Their acrylic prints also come with aluminum rails on the back making hanging your print very easy.
Non Standard Print Sizes
What's really cool about White Wall is you can order almost any size print you want. When I was talking to the White Wall reps, they told me that the lab does not limit you to standard prints sizes such as 8×10 or 16×20. Instead, you could order a 30x17in print if you want. White Wall told me they believe photographers should be able to order a print in the size and crop that they envisioned the image when they made the image. Personally, I've always disliked being limited to what size print I can order, so the option to choose any size is pretty impressive for me.
Prints On Ilford Baryta Paper
Finally, I had heard about Ilford Baryta paper in the past for black and white photos and how great it made a black and white print look, but have never seen an image actually printed on it. I also didn't know of a lab that offered it as a service. All I can really say is, "wow!" When the White Wall reps were showing me the black and white images on Baryta, I was blown away. There was such a simple elegant beauty to the images I was seeing . They also take a lot of pride in the fact they offer prints on Baryta paper, due to all the work involved in making a print on Baryta paper. All in all, I know there are a lot of photo printing companies out there, but White Wall really impressed me with their passion, craftsmanship, and products and are worth checking out.
Final Thoughts On PPE 2014
My three days here at PPE have been great, I've learned a ton, meet a lot of great people, checked out some awesome gear, enjoyed NYC, and my feet are sore from all the walking around! This was my first year here and I can honestly say if you can make the trip to PPE in 2015, just do it. You will not regret it!
Thank you to B&H for sponsoring SLR Lounges coverage of PhotoPlus Expo this year!
Chris Nachtwey
Chris Nachtwey is a full-time wedding and portrait photographer based in Connecticut. He is the founder and creator of
35to220
a website dedicated to showcasing the best film photography in the world. Chris loves to hear from readers, feel free to drop him a line via the contact page on his website! You can see his work here:
Chris Nachtwey Photography