Blending modes have to be some of the least understood, yet commonly mentioned features in Photoshop. They do, however, have the ability to change an image to great effect with a single click, and then even further with just a few more manipulations. There are though, quite a few of them, and actually seeing them implemented in practice is about the best way to get a feeling for the power of each.
The same can be said for Photoshop on a whole. Learning Photoshop is somewhat tantamount to learning a new language, and likewise, immersion is about the best way to learn it, in my somewhat-humble opinion. This is where Aaron Nace and Phlearn really shine. Rather than reciting verbiage or conjugations, going through this tutorial on the power of using blending modes, like most of Aaron's videos, is more like having a conversation with a native. It may not be the most technical, but significantly more usable.
On the surface, this is one of Phlearn's Halloween specials, but it's actually a great way to see blending modes in action, what can be done with them, and also how to manage them in your image workflow. You'll learn what some of them do to an image in a practical sense, and then understand how they can be used to render the style of final product you want.
Taking 2 primary images, and then 2 stock images is all that was required to come up with the final result, and the speed at which it was arrived at is really due to proper understanding of what can be done with blending modes. In this particular case, the Screen Blending Mode is the choice. Aaron also goes through how to use the liquify tool within a composite, using linear gradients, and global coloring using a gradient layer map – the latter allows for the choosing of a color for the dark and light points, and then the entire image is based off that scale, giving this shot its eerie hue.
There are a lot more tips to pick up from this tutorial, and I recommend watching it twice pausing often, and paying attention to the in-between actions which may not be the focal points, as these are little gold nuggets that Aaron peppers throughout.
As always, if you are a fan of Aaron's teachings (and who isn't?), be sure to check back here for updates, and follow along with Aaron on YouTube and Phlearn. You should also consider becoming quickly adept at Photoshop with the Phlearn Photoshop 101 & 201 sets as they are extremely comprehensive, and will have you quickly doing things with Photoshop you may have otherwise thought too complex, or didn't even know you could do.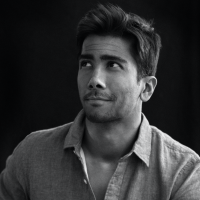 Kishore Sawh
A photographer and writer based in Miami, he can often be found at dog parks, and airports in London and Toronto. He is also a tremendous fan of flossing and the happiest guy around when the company's good.