How far would you go to preserve a memory?
Andrew Funderburg of Fundy Design Software traveled to the South of France on an important mission: to show the world the power of print. One of Fundy's core beliefs is that "prints are a bridge across generations," connecting an indivdual to the past.
An image discovered by Funderburg's mother depicts soldier Stephen Gurney who served in WWI, dating this photo back over 100 years. On the back, an inscription reading "Stephen Gurney – WWI (Mary Gurney Wallis' Brother.); was killed in action shortly after photo was taken". The young man in the portrait was identified as the great uncle of Fundy Software founder Andrew Funderburg. After a quick google search, Funderburg traced the studio back to France which sparked the idea for this emotional journey of storytelling.
Funderburg set out to France to film his documentary, Power of Print, emphasizing the importance of the printed photo. His adventure will take him back to Studio Ernest to recreate the image of his great-uncle, bringing it back full circle. Join him and his team as they live-stream their trip and take us behind the scenes to illustrate the how essential printed photos truly are.
I know that many of you are thinking that this photo, if taken during the technological times of today, would exist somewhere up in "the cloud" or on a hard drive somewhere. But 100 years have passed and what remains is the physical print, and more so, the ability for Funderburg's family to discover a connection to their past.
Fundy Software strives to demonstrate the power behind printing your clients' images. As photographers we are so focused on the storytelling aspect of an image during its capture, we often don't think twice once it has been post-produced and out of our hands. Their primary product, Fundy Design Suite, helps customize and craft client albums more efficiently and effectively than traditional solutions such as Adobe InDesign or Photoshop, as mentioned on Yahoo Tech.
Resource Magazine shared this infographic that leaves a jarring impression – approximately one trillion images were taken in 2015, with increasing estimations for years to come. Assuming that this calculation is a close guesstimate of the future of photos, the actual meaning behind images will diminish over time, leaving us with fleeting or forgotten memories nowhere to be found. With the evolution of companies like Fundy Software, we are reminded everyday the importance of print and just how powerful an image can be.
See all the coverage of Funderburg's documentary on the Fundy Software Facebook page and website.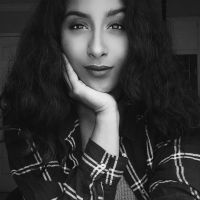 Shivani Reddy
Shivani wants to live in a world where laughter is the cure to pretty much everything. Since she can't claim "Serial Bingewatcher" as an occupation, she'll settle for wedding/portrait photographer at Lin and Jirsa & marketing coordinator here at SLR Lounge. For those rare moments when you won't find a camera in her hand, she will be dancing, eating a donut, or most likely watching Seinfeld. Follow her on Instagram:
@shivalry_inc