"Why mess with a good thing?", and "Don't fix what ain't broke" are both adages that apply when speaking about photographer Jessica Kobeissi. Probably about a year ago Jessica cracked onto the very public scene and found a niche with her videos, videos which are tallying in the millions of views, and it's not hard to see why.
With a to-the-point attitude and lack of pretense, Jessica is able to remove some of what's intimidating about photography and show you don't need much to create good work. On top of that, her series of 'Portrait Challenges' really helps to drive home the notion that tools do no make a photographer by highlighting how diverse shots by different people can be even when shooting the same person in the same scene. Well, that, and they're just fun to watch. This one is no different.
Actually, it's a little different because of the photographers competing today is Joey L and Brandon Woelfel. But that aside, the basic premise remains the same as does the format. Each photographer gets to dictate one scene that all the others must photograph as well. So they pick the location, the model's attire, and then they along with the other 3 will have 3 minutes to photograph that model as set. That's pretty much it, though they get to shoot with whatever gear they wish, and in this case there's everything from a Phase One XF to a 5D, D810, and D750, most with an 85mm on the end. Here's who's shooting what:
Phase One XF
IQ250 Digital Back
Schneider Kreuznach 55mm LS f/2.8
As you can tell that's quite a spread, with Joey's choice really standing out from the crowd given not only the variant of form factor and sensor size, but of lens choice (we sort of deduced he is using that SK 55 LS 2.8). Each photographer in the test really goes all out to deliver something true to self, and truly interesting to see what developed.
These kinds of videos are particularly interesting not solely for their ability to show different end results, but also to highlight the intangibles that don't often get described; how interacting with the model works; how a photographer stands; what they look for in attire and location, and a host of other things. Pay attention to the details between the main talking points and you'll pick up on a lot.
You can check out more from Jessica here, and let us know which photographer's stuff you like most.
Model: Charlotte McKee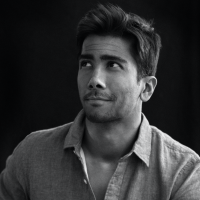 Kishore Sawh
A photographer and writer based in Miami, he can often be found at dog parks, and airports in London and Toronto. He is also a tremendous fan of flossing and the happiest guy around when the company's good.