Jessica Kobeissi is a young photographer based out of Detroit, Michigan, and one you may notice that some 'seasoned/older' photographers in the community don't quite understand, or at least agree with. She's direct, maybe not the most theoretically and technically rigorous, and unapologetic about it, all while creating the types of images many photographers would love to shoot. We've been following her stuff for about a year now and her progression is nice to see, and steep. She represents, in a way, a burgeoning generation of photographers, and thus represents a shift.
One of her most recent videos is representative of that as she brings together a group of young female photographers (the photo world is desperately in want of more) for some friendly photographic jousting. The premise of the challenge is simple: 3 photographers, each deciding upon a different scenario (styling and location) using the same model and all scenarios shot by each photog with each being given 5 minutes.
The photographers joining Jessica are Ruby James, and Irene Rudnyk, and each have discernible followings in tow. To make things even more interesting, each of the photographers are using very similar equipment: Canon 5D Mark III x2, Canon 5D Mark II, Jessica using the Canon 50mm f/1.2L, & her co-hosts using the 85mm f/1.2L and Sigma 35mm f/1.4 ART.
It's a light, easily-consumed video but it gives a glimpse into the environments with which anyone can create nice photographs, and even a little prop direction. And if you pay attention you'll pick up on their use of backlight and model positioning, and how to utilize a small space. Worth a watch.
You can check out more from Jessica here on her site and YouTube channel.
Related: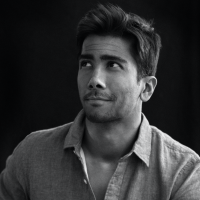 Kishore Sawh
A photographer and writer based in Miami, he can often be found at dog parks, and airports in London and Toronto. He is also a tremendous fan of flossing and the happiest guy around when the company's good.