The idea of large budgets and successful photoshoots tend to go hand in hand with each other. The assumption is the more expensive the styling and production the more successful the overall shoot will be. Is it possible to capture a small budget shoot with cheap dresses in such a way that will still attract attention?
Jessica Kobeissi is back with another YouTube personal challenge and this time she has partnered with a fashion stylist, hair stylist and makeup artist to unleash the possibilities of cheap eBay dresses.
The Gear
Unlike the first eBay challenge where the dresses were left unadorned and primarily shot as is, this time Sarah Al-salman is free to let her creativity soar. Most of the items pulled for the shoot are thrifted and the most expensive accessory is a $40 pair of boots.
The overall styling combines fashion forward elements such as the bright leggings and knee-high boots with a bit of rock and roll. Combined with incredible hair and makeup, the initial inspiration of cheap eBay dresses was transformed into an elevated west coast look that could easily be seen gracing the pages of today's independent fashion magazines.
The challenge highlights the importance of a successful collaboration. By allowing each team member to put their own spin on the initial inspiration of cheap eBay dresses, they collectively transform it into something that works.
Sophia is an incredible model and, having been part of the creative process from the beginning, was able to put the final touches on the product and deliver fantastic results. It goes to show that amazing pictures can be created with the right team and model, despite a small budget.
The following video is just under 10 minutes and serves as great inspiration of endless possibilities. Also be sure to subscribe to Jessica's YouTube Channel for loads more content and you can also follow her on Instagram.
The Team
Model: Sophia Esperanza
Fashion Stylist: Sarah Al-saman
Hairstylist: Giovanna Avila
Makeup: Leah Darc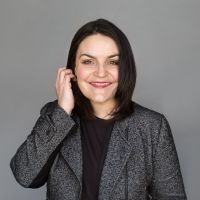 Brittany Smith
Brittany is a fashion and beauty photographer who works between NYC, Montana and LA. She photographs the way she has always wanted to feel and believes in the power of raw simplicity. When not behind a camera she can usually be found at a local coffeeshop, teaching fitness classes at the YMCA, or baking something fabulous in the kitchen. Instagram: @brittanysmithphoto