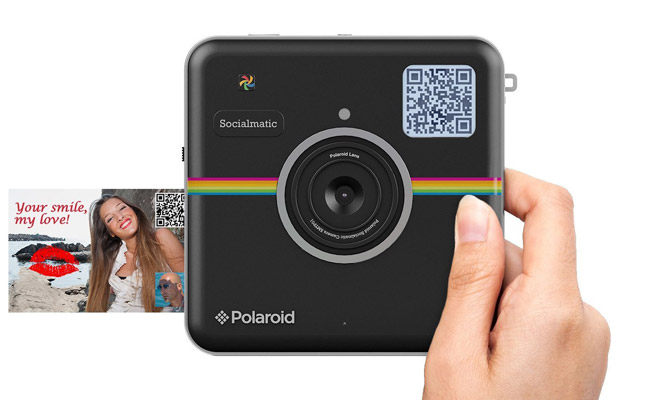 Hipsters Rejoice! The funky looking Polaroid Socialmatic instant print digital camera, the same one we first shared with you around two years ago, will finally be available next month.
For those of you unfamiliar, the Polaroid Socialmatic 'Instagram camera' concept began back in 2012 and is intended to be a real life representation of the famous phone app/social network. The camera would share pictures taken on the social network as well as print physical copies – just like the old Polaroid cameras did.
The initial concept specs included 16GB of SD storage, a 4:3 touch screen, an LED flash, optical zoom, Wi-Fi and Bluetooth connectivity, and the built in Polaroid printer. The final specs, which will be in the model coming out in 2015 are listed below.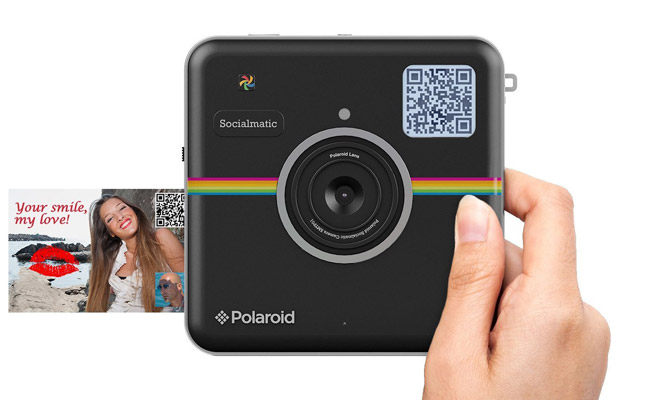 Polaroid Socialmatic Specs
14 Megapixel Forward-Facing Camera; 2 Megapixel User-Facing Camera

Socialmatic Network Compliant (Facebook, Twitter, Instagram, etc)

4GB Memory, Expandable to 32GB

4.5-Inch Full Color LCD Touchscreen

Stereo Speackers and a microphone

GPS, WiFi and Bluetooth

Remote Printing Capabilities

ZINK Zero Ink printing technology

2″x3″ Zink Instant Filters feature a sticky back for easy posting on most surfaces

Rechargeable lithium-ion battery

Box Includes: Socialmatic, ZINK Photo Paper, Charger, USB Cable, Manual
This Polaroid Socialmatic was originally supposed to start shipping in 2014, but some delays have lead to it not being available. According to Amazon's product page for the camera, the Socialmatic will begin shipping on January 1st, 2015 and be purchased for a price of $299.
$299 seems steep for a sort of gimmicky product like this, but at the same time, it is almost niche enough that interested parties will likely be fine that that price tag. In my mind though, $299 definitely takes this out of mass appeal, since most people aren't going to want to fork over that kind of money on an item like this. Especially with Fuji's Instax Mini available for something like $90.
You can find more details on the Socialmatic over on the Amazon product page.
What are your thoughts on the Socialmatic camera? Would you buy one? Leave a comment below and let us know what you think!