Every now again we want our images to have a little extra pop to catch the eye of anyone who comes across them. Although our eyes prefer images with stunning clarity, they can also detect when things have gone a bit too far. The internet is littered with cautionary Photoshop horrors and if you don't want to contribute to the eye pollution, you'll want to pick up some tips to keep you from crossing that line. Nathaniel Dodson from Tutvid.com has a simple approach to keep you from an overindulgent slider finger.
1. Convert your image to a Smart Object and duplicate it three times. You'll start off by working on the top layer.
2. Filter > Camera RAW Filter. This opens your Smart Object in the Camera RAW Filter. Go to the detail tab in the Camera RAW filter and adjust the sliders to your liking and press OK to go back to your image in Photoshop.
3. Press ALT/OPT key and click on the "New Layer Mask" Icon to create a new layer to hide the new sharpened layer.
4. Select the Brush Tool and use a large soft tip brush. Select your layer mask which should black and make your foreground white. Now you can paint with white with your brush to reveal the sharpened layer where you want it in your image.
With each layer, you will be focusing on a different part of your image: the eyes, the skin, the background, etc. The reasons that you'd take this approach is that it gives you more control over the impact the adjustments have on your image.
You control exactly where the sharpening is revealed
You can control how much that adjustment applied.
You are able to immediately reduce how much an adjustment impacts your image with the sliders your Layers panel.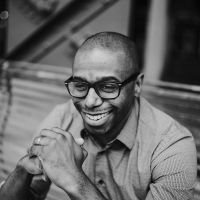 Wendell Weithers
Wendell is based in Atlanta where he shoots events, portraits, and food photography. He also supports his wife Andrea as she runs their cake design business, Sweet Details. Instagram:
Wendellwphoto