So Instagram launched their new update not too long ago, implementing another media sharing platform within the app that just so happens to be almost a complete knock-off of a popular little app called Snapchat. As soon as the rainbow circles of death appeared on my dashboard, I was ridden with panic because now we are introduced to another time-draining marketing strategy meant to trap us even longer in this photo-sharing app. So what are the benefits of using Instastories?
Well, it's just another way to reach out to your followers, keep them updated in your life, and remind them that you are alive and doing all these cool things everyday. As you update your story, it updates to other people's phones, making you stand out from the hundreds of other people they follow. You're now a beacon of rainbow light shining down on all the competition when your story pops up at the top of their feed.
On top of that, trying to get people out of Instagram and onto Snapchat to watch your story is another feat in itself. Most people are already on Instagram, so it saves them an extra step if they wish to see your story. On average, I get around 6 times as much traffic on my instastory than I do on Snap, mainly because people are inherently lazy and if they can just watch it from the same platform, why not? It's like why would you park at the end of a parking lot instead of the spot that's in the front?
The downside of all this is that Snapchat is still pretty freaking cool with all their live updates of real events, geotags, and snazzy filters that let you choose to be a butterfly queen, an old man with the voice of a chain smoker, or a puffy blushing face surrounded by a bread slice.
It's also hard to stop using it when it's just so dang fun and some of your snapchat friends don't have Instagram because they live under a rock. With that said, the only option is to just use both if you wish to stay at the top of your A game.
As annoying as it is, there are ways you can make it a little easier on you such as exporting straight from Snapchat onto Instagram. All you have to do is export your story or whatever image/video you want to add to Instagram, pull the invisible tab at the top of the camera screen, and select what you want posted. It's still an extra step, especially now that Snapchat makes you go through your memories to export instead of letting you export straight from your camera (another rather useless update).
A couple things that are pretty cool about Instastories are their own unique filters, markers, and the ability to post directly from the story. I will admit that their "white" filter is way more sophisticated than Snapchats. It lightens and brightens the image without bringing down the shadows like Snapchat does. Their rainbow filter also allows my cat to be the mermaid she always dreamed to be. Once you choose a filter, you can also select a marker type: plain, chunky highlighter, or glowing neon (I made these names up). If you decide later you really like the photo, you can just post directly from the story to your Instagram for all to see.
Now, in a perfect world, Snapchat and Instagram would be best friends and Snapchat would just integrate their platform so everything gets sent directly. But unfortunately, quoting @champangepapi, NO NEW FRIENDS.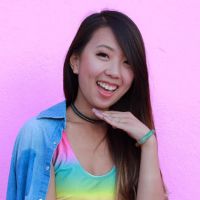 Jennifer Wu
Jennifer is a photographer and graphic designer out in Los Angeles. When she's not shooting fashion bloggers or creating social media content for brands, she's usually bombarding her snapchat with too many photos of her adorable cat or coming up with terrible puns that her friends don't find a-meow-sing