Michael Schmidt fell in love with photography when he was in his mid 20s.  He began with a series of pre-owned Sony Mavica cameras, then in 2009, he bought a Lumix point-and-shoot that would immediately further fuel his passion to photograph so much, that only a week later he would buy his first DSLR- a Sony a700.
He began shooting different styles, as many of us do when just starting; architecture, landscapes, macro, wildlife and cityscapes made the bulk, and the only thing he hasn't yet done is portrait photography. He was facing one of the biggest struggles of beginning photographer; he wasn't really sure which direction to go.
Wildlife photography, Michael's biggest passion, unfortunately couldn't pay the bills, as it is one of the most difficult fields of photography to 'make it' in, because unlike portrait and wedding photography,  in order to do so you have to sell licenses or prints.
In 2012, Michael began volunteering for the Stanley Park Ecology Society, photographing events and developing their image database, which proved to be enriching, and would be one  of the best experiences of his life. So much so he continues it today.
It was only last month that Michael received a call that would change his photography career. Someone working at the SPES called him asking if he would be interested in photographing a hummingbird nest in the yard of a family member. The hummingbird had laid two eggs and was used to people walking around in the yard. This helped Michael get close to the birds and for the next two and a half weeks, he documented the growth of the freshly hatched hummingbird babies.
He then posted the photos he took over a period of a month in different Flickr groups, and nothing had prepared him for what happened next. The photos accrued over 50,000 views in a few days, and Michael was soon getting mentions in various local news and newspapers, gaining him much wanted recognition in his preferred field, and will hopefully help him 'make it' doing what he loves. It's a wonderful story of success that shows that no matter who you are, with perseverance you can have your work noticed.(Gear list below)
Gear List
Sony a77

Sony 16-50mm f/2.8

Tokina 90mm f/2.5
Michael uses Lightroom and the SLR Lounge preset system for his editing. To see more of Michael's work, check out his website.
All photographs by Michael Schmidt are copyrighted and have been used with permission for SLR Lounge. Do not copy, modify or re-post this article or images without express permission from SLR Lounge and the artist.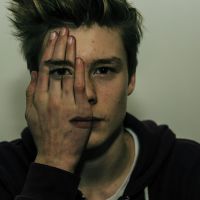 Paul Faecks
Paul Faecks is a portrait- and fine art photographer, based in Berlin. If you want to check out his latest work, you can do so by following him on
Instagram
or by liking his
Facebook Page