Today, let's go "high-key"!
The Photo
(Click here to view the full engagement session!)
The Equipment and Settings
The Shooting Conditions
Here is what the original scene looked like, when exposed properly etc…
Yikes!  That's a cluttered background at it's worst!  I knew this scene had some amazing potential, though.  My vision was bright, warm, and slightly faded.  So that's exactly what I did!  I boosted my exposure a little bit, warmed up my white balance in kelvin, (and got rid of that wicked green-ish tint by bumping my WB shift in the magenta / pink direction one click!) …and voial!
The Post-Processing
For this image, I went straight to the SLR Lounge Lightroom 4 Preset System.  I used one of the vintage fade presets, and then added a couple final tweaks to get the colors just right.  I also added a vignetting preset, and did a tiny bit of dodging (brightening) to the doorpost located just behind them, to separate her head and his back a little bit.  Done!
By the way it is always a good idea to keep your "looks" consistent throughout a shoot, as Post-Production Pye has taught us well I hope.  So here is an example of using the same exact vintage fade on a different image in a different lighting situation, but with the same bright, faded look: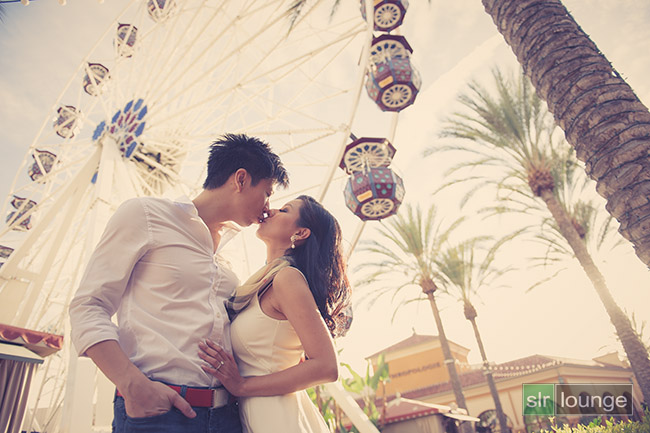 Take care, and happy clicking!
=Matthew Saville=
Natural Light Portraiture
If you are interested in becoming a master at natural light portraits, (photographing couples) …then you should check out our Natural Light Portraits for Couples DVD Workshop!  This comprehensive video workshop collection will help you master everything about photographing people in a simple, natural light setting…  Click here to visit the SLR Loune Store and get more info.
The Lightroom 4 PresetSystem
The SLR Lounge Lightroom 4 Preset System is designed to enable users to achieve virtually any look and effect within 3-5 simple clicks. From basic color correction, vintage fades, black & white effects, tilt-shift effects, faux HDR, retouching, detail enhancing, and so much more. The sky is the limit with what has been dubbed the most powerful and intuitive preset system available. Click the link above to learn more/purchase.
You can also purchase the LR4 Preset System as part of the Lightroom 4 Workshop Collection.