During my 15 year graphic design career, I've created my share of photo composites using Photoshop. As with anything in Photoshop, there are numerous techniques for achieving the same result, but, since time generally equals money in a creative career these days, I'm always looking to learn more efficient and effective methods.
In this Phlearn PRO tutorial, The Perfect Composite, I learned several new techniques for more effectively scaling the subject, matching lighting and perspective, and creating edge glow. Other foundation concepts covered include creating the perfect shadow and coloring with channels. There's a bonus action and brush included with the tutorial, which is nice.
Probably the most mind blowing technique I learned in this tutorial was how to use the perspective filter to accurately size your subject in a composite. I had never seen this done before and it really takes the guess work out of how large to make your subject so it looks realistically placed in a new environment.
Many of the concepts covered during this two hour lesson are basics of light, shadow, perspective and color theory I learned in college art classes. Learning how to apply those principles with specific techniques in Photoshop is the key to achieving the perfect composite.
Prepare to take notes, because this thing is jam packed with little tricks. In fact, I would recommend you follow along with the included exercise files so you'll have some practice using some of the techniques.
My only complaint about the tutorial itself is that the teacher sometimes talks too fast or goes through a whole series of work and then changes his mind about the technique in a few spots, which I found to be confusing. Luckily, with a video I was easily able to rewind and watch again or pause if needed. Otherwise, I was pleasantly surprised by the amount of new things I learned and I'm excited to try them out! Click here for more information.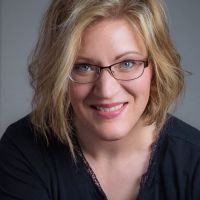 Tanya Goodall Smith
Tanya is the owner of WorkStory Branding Photography in Spokane, WA. Businesses hire her to create story-telling content that sells their high end products and services. She also teachings photographers her unique business model for making serious money as a corporate and personal branding photographer. Find her at
workstoryphotography.com
and
workstoryeducation.com