The tide of progress with cameras in the digital age is swift, and keeping up with camera tech is akin to running in a race where the finish line keeps moving. That said, you'd be hard pressed to stay ahead of the curve set by Phase One's digital backs, and what the company has just announced is unlikely to be rivaled in the near future. Timeless? Maybe not, but that's somewhat the commodity it deals with – the timelessness of black and white.
The new IQ3 100MP Achromatic is dedicated purely to black and white photography, and with that dedication comes distinction. The new offering has a top-end ISO of 51,200 and is stated to be the most light sensitive medium format digital back available.
For those unfamiliar with dedicated achromatic sensors like this and/or if they carry within any inherent benefits, they do; think of it not as simply removing colour, but being devoid of obstruction of light with all the benefits that brings.
The 101-megapixel sensor has been produced sans a Bayer colour filter which means more light is able to hit the surface, and there is no need for colour values to be interpreted nor to calculate luminance values in the same way like via interpolation. What that all means is that the IQ3 100 Achromatic should be faster, sharper, have better depth and clarity, handle noise with equal aplomb, and be better in low light generally. It also provides an Electronic Shutter, long exposure of up to 60 minutes, HDMI output, WiFi capabilities, full IQ3 XF Camera System integration, and compatibility with other camera bodies.
In addition, it has been produced without an Infrared (IR) cut-off filter, so the IQ3 100MP is able to see and capture light that is not within the visual spectrum, which is all very impressive, especially when considering it has Live View and within that you're able to see light typically nor visible to the naked eye.
"The IQ3 100MP Achromatic enables photographers to capture a timeless expression," said Stefan Sandor, Vice President Marketing and Product Management. "The detail, tonality and image quality must be experienced first-hand, as seeing is not only believing, but truly inspirational."
Anyone who likes to shoot in black and white will know that there's something about it that is enduring, and this one seems to be the best yet. Phase One, surprisingly, has made something here that's both timeless and ahead of the curve.
To have one though, you'll have to have $49,990 on hand, and while purchase is available now, first shipments go out in September. Check out more and some sample imagery here.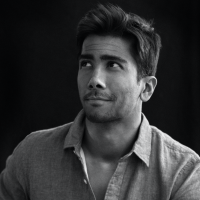 Kishore Sawh
A photographer and writer based in Miami, he can often be found at dog parks, and airports in London and Toronto. He is also a tremendous fan of flossing and the happiest guy around when the company's good.