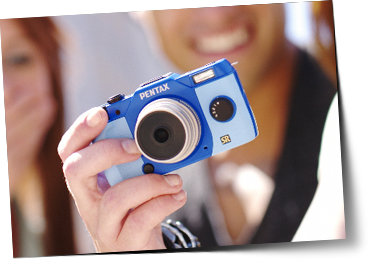 Pentax reinforces their mirror-less interchangeable lens brand with their new Q7 camera for $499.  They tout that the camera is the smallest and lightest I-Lens body in the world, but the bigger feature they're advertising is that the camera comes with 120 color choices.
The camera probably has its uses for a serious photographer (on vacation); it's a great small travel camera that still allows you manual control and choice of lenses.  The 120 selection of colors reminds me of Dell's not so popular similar marketing scheme for their laptops.  It also somehow reminds me of something Pye would carry around in downtown San Diego, just for fun.
Take a look at the camera here.
Technical Details:
12.4 MP
Data Formats: RAW & Jpeg Shooting, both with Large, Medium, and Small options
Flash: Retractable TTL Flash
Memory: Removable SD
Battery: Lithium-ion: approx. 250 images
Weight: ~200g (w/ battery)
ISO: 100-12800, or 100-1600 on Bulb
Shutter: 1/8000 – 30, Bulb
Bottom line:  the camera is great as a gift for a friend or family member, but there are many better solutions for the professional/enthusiast photographer on vacation.  Is this something you could see getting for yourself or for a friend?