Peak Design has launched a revolutionary ecosystem of mobile cases, mounts, and accessories. Built around a proprietary low-profile connection system, ​Mobile by Peak Design​ aims to make your phone a better tool for everything you use it for, from navigation to communication, creativity to recreation.
Prior to the release of ​Mobile by Peak Design​, clunky, bulky, unattractive mobile accessories hindered users' attempts to obtain a seamless, compact mobile carry experience. Peak Design addressed this with a groundbreaking piece of mounting technology named ​SlimLink​. With a stack height of just 2.4mm, ​SlimLink minimizes bulk on your phone and mounting devices and facilitates both soft-locking (magnetic) and ultra-secure, hard-locking (mechanical) mounting functionality. To achieve the ​SlimLink​ architecture, a zirconia ceramic insert is surrounded by an array of magnets and then embedded into each Peak Design Everyday Case.
"Phones are the most powerful tools in the world, and our goal was to create the most powerful accessories for them" commented Peak Design Founder and CEO Peter Dering. "We've been developing the SlimLink architecture for 4 years, and we didn't stop until our cases and mounts looked better, felt better, and worked better than anything else out there."
[Related Reading: Peak Design Unveils The "Next Generation" of Camera Tripods]
The consumer starting point for Peak Design's mobile accessory ecosystem is the Everyday Case, a durable polycarbonate phone case wrapped in Peak Design's custom high-performance nylon canvas fabric. The case—available for iPhone (including iPhone 12) and Samsung devices—supports wireless charging and strikes an ideal balance between ruggedness, protection, and refined aesthetics. A slim, adhesive-backed Universal Adapter is also available that works with nearly any phone or hard, non-textured case. Peak Design intends to support additional phone models in the months and years to come.
To complete the ecosystem, Peak Design has launched a wide array of instantly-swappable accessories, including mounts for cars, bicycles, motorcycles, home/office, a mobile wallet, and accessories for photographers and filmmakers. Each accessory was developed by a team of engineers over the course of 2 years and designed to outperform leading competitors in ease-of-use, form factor, ruggedness, and aesthetics. All accessories are built from premium materials, individually serialized, and guaranteed for life. The range of products illustrates the versatility and security of the SlimLink mounting technology, which supports activities from Facetiming to downhill mountain biking.
[Related Reading: Peak Design Teams with L. Renee Blount, Sony, & BorrowLenses To Provide Gear Grants for Black Photographers]
Mobile by Peak Design will be available for presale on October 19, 2020 as part of Peak Design's monumental 10​th Kickstarter campaign (peakdesign.com/ks). During this campaign, Peak Design has the potential to surpass Pebble for the all-time most money raised in the history of crowdfunding ($43.4M). Following the launch on Kickstarter, the mobile system will then be available for purchase online at Peakdesign.com and through major retailers beginning Spring 2021
Our Thoughts and First Impression
As with everything from Peak Design, you can tell they spent a lot of time in designing the ergonimics of this setup to be as smooth, functional, and downright fun to use as all of their product line. The case looks smart and professional, the mounts are quick and easy to set up and use, well, anywhere, and during my initial testing and playing with the pre-production bundle of accessories, the ONLY thing that concerned me at all was that I couldn't use my wireless charging station with this particular case. (Keep in mind, they ARE coming out with a bundle that will work fine with wireless, we just don't have the details on that yet.)
The Tripod Base was actually really nice, albeit a little heavy if you're just tossing it in your pocket, but honestly, for the stability and usefulness of it, it's more than worth it. What kinda blew my mind was the sheer convenience of having the tool built right into the base and contained magnetically.  The Peak Design team really did think of everything for this setup. In our testing, we noticed there was a very slight "allowance" or wiggle room for the magnet inserts which we confirmed with Peak Design that it was normal for the pre-prod and will be even better upon official release. That being said, even with that little bit of a wiggle the magnet never once lost its grip during all the testing and pushing we did.
The bottom line is this set of accessories is actually one of the first setups for mobile that I've been genuinely excited about and happy with! Be sure to check out the kickstarter details and decide for yourself if any of these items look exciting to you.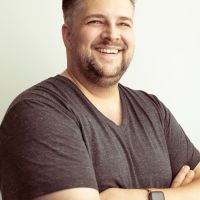 David J. Crewe
David J. Crewe is a full-time commercial photographer and Senior Editor with SLR Lounge. Based out of both Southern California & Las Vegas, Nevada. View his work and blog:
DavidJCrewe.com
Follow his Instagram:
@DavidJCrewe