It may be the calendar year 2017, however, the casting directors for this most recent Paris Fashion Week might be stuck in a much more archaic age. With fashion having already been scrutinized for casting much too thin and underage models, it is a shame that news continues to be made with the way that models are being treated in today's "modern" society during their casting calls, which are more akin to cattle calls. This year's Paris Fashion Week is proving, however, to be revelatory and perhaps a pivot point for the treatments of women in fashion, and models in general.
American casting director James Scully took to Instagram last week to bring awareness to the mistreatment and prejudice of models during last week's shows, and he took no prisoners by fearlessly and directly calling out the injustice and inhumane treatment of young women in fashion (keeping them in a dark stairway for hours with locked doors), as well as calling out blatant 'mandated' racism, and outing offending parties by name (Maida Gregori Boina & Rami Fernandes). Here's the text from Scully's Instagram post:
So true to my promise at #bofvoices that I would be a voice for any models, agents or all who see things wrong with this business I'm disappointed to come to Paris and hear that the usual suspects are up to the same tricks. I was very disturbed to hear from a number of girls this morning that yesterday at the Balenciaga casting Madia & Ramy (serial abusers) held a casting in which they made over 150 girls wait in a stairwell told them they would have to stay over 3 hours to be seen and not to leave. In their usual fashion they shut the door went to lunch and turned off the lights, to the stairs leaving every girl with only the lights of their phones to see.

Not only was this sadistic and cruel it was dangerous and left more than a few of the girls I spoke with traumatized. Most of the girls have asked to have their options for Balenciaga cancelled as well as Hermes and Ellie Saab who they also cast for because they refuse to be treated like animals. Balenciaga part of Kering it is a public company and these houses need to know what the people they hire are doing on their behalf before a well deserved law suit comes their way.

On top of that I have heard from several agents, some of whom are black that they have received mandate from Lanvin that they do not want to be presented with women of color. And another big house is trying to sneak 15 year olds into paris! It's inconceivable to me that people have no regard for human decency or the lives and feelings of these girls, especially when too too many of these models are under the age of 18 and clearly not equipped to be here but god forbid well sacrifice anything or anyone for an exclusive right? If this behavior continues it's gonna be a long cold week in paris. Please keep sharing your stories with me and I will continue to to share them for you. It seems to be the only way we can force change and give the power back to you models and agents where it rightfully belongs. And I encourage any and all to share this post #watchthisspace
Boina has gone on to make a statement to Business of Fashion and refuted the claims and calling them libelous, but the reports of the casting directors Maida & Rami herding over one hundred models into a stairwell, turning off the lights and shutting the doors while they proceeded to go to lunch for several hours has been backed up by numerous models. The fashion house ​Balenciaga for whom the duo was casting, has also come forward with a statement condemning the behavior and has severed ties with the duo, though it was their job to know this was going on and perhaps the action is a little late and seems only to save face.
This type of treatment is now finally being realized as cruelty and thankfully someone is shedding light as to how models are being treated during recent castings for major fashion houses.
The sad truth of it all is that we are living in a modern society where the demands of models are increasing while the budgets remain either stagnant or are on the decline, and racism and prejudice still occur in a world that is at the forefront of culture. For photographers, this is a cautionary tale, and as photographers we have power and a responsibility to change this landscape by being conscious of who we shoot and to care about them, and to speak up when we see the injustice around.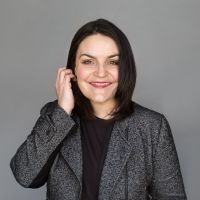 Brittany Smith
Brittany is a fashion and beauty photographer who works between NYC, Montana and LA. She photographs the way she has always wanted to feel and believes in the power of raw simplicity. When not behind a camera she can usually be found at a local coffeeshop, teaching fitness classes at the YMCA, or baking something fabulous in the kitchen. Instagram: @brittanysmithphoto