Today, we have the pleasure of introducing you to a very talented and knowledgeable photographer, Dave Morrow. While speaking with Dave and looking through his work, I noticed that many of the images featured were from my region, the Pacific Northwest, and that many of the workshops were based here as well.
It got me thinking, this is not a unique phenomenon. I know of quite a few other landscape/night sky photographers who have moved here full time or live here for part of the year. So, I set out to ask Dave, what makes this region of the country a destination for this sort of photography.
Dave was kind enough to share his thoughts on that matter. We also talked about gear and tips that you should look into if you want to get into landscape/night sky photography. This was one of my favorite interviews to date and I hope that you all enjoy.
Hi, Dave! Thanks for taking some time to talk to us. To start off, can you tell our readers a little bit about yourself and what it is that you do?
Hi Guys, thanks for the interview. It's my pleasure! I'm a landscape photographer & workshop instructor who currently lives in Seattle, Washington. When I'm not teaching, I spend my time traveling the world in search of beautiful locations to backpack and take photos of the night sky.
I was looking at your website the other day and I noticed that many of your workshops are up in my neck of the woods here in the beautiful Pacific Northwest. You travel all around the world to create stunning images. What is it about this part of the world (the PNW), that makes it such a great destination for night sky photography?
There isn't another location in the world that boasts deserts, oceans, rainforests, alpine mountain regions and dark starry night skies all within a few hours drive. When it comes to landscape & star photography, there aren't many more diverse locations than the Pacific Northwest.
As a resident of the Pacific Northwest, I've spent years exploring each of these locations and have photographed them dozens of times. I love it here! I really wanted to bring others this same excitement and teach them the skills required to capture some awesome images along the way.
Leading workshops and tours here allows me to take my students to an array of different landscapes, shooting some of the best scenery and darkest night skies there are to offer all within a week-long adventure.
There are so many good options as far as locations to shoot here: Crater Lake, the Coast, Mt Hood, Mt St Helens, the list goes on and on. I'm curious, what would you say is your favorite location to shoot up here in the PNW and why?
Great question, also a tough one! You're right, the list goes on forever. If I could pick one, it would have to be the Olympic Peninsula of Washington. This place has it all!
The Olympic Peninsula has the rainforest, high alpine mountain areas including Mount Olympus ( just under 10K feet ), and the remote Pacific coast which provides miles upon miles of wilderness and backcountry camping.
If there was one place/location that someone visiting the area needed to see for simply stunning night sky opportunities, where would you recommend?
Another great question! The North Cascades of Washington State. If you like backpacking, a day or two hike into North Cascades National Park will lead you into some of the darkest night sky regions in the world.
If you just want to take a nice afternoon drive and still see the Milky Way, check out Picture Lake in the North Cascades.
As we mentioned earlier, a lot of what you do is teach and mentor other photographers is learning about shooting the night sky. What is one piece of advice to someone just getting started about the sort of gear that they need to think about investing in?
Gear does matter for both landscape and night photography. If you want to get some really nice night sky images, you will need a full frame camera that handles high ISO very well. You can get by without a full frame camera, but your images will have too much noise to print or display.
I find that it's actually cheaper to make a one time purchase of a full frame camera and lens, instead of starting with lower models and working your way up. You can get away with one full frame camera and one wide angle lens ( 14mm-16mm widest focal length preferred ). You'll also need a sturdy tripod.
That's all you need to take photos of the night sky. I personally use the Nikon D800 and Nikkor 14-24mm f/2.8 lens. This may seem like a lot of money, but considering I'll use each of them for a minimum of 8-10 years on a weekly, if not daily basis, it's no more than your standard daily cup of coffee.
I have a star photography camera & lens recommendations page for anyone that's interested. I've tested all of this gear out and it works great for night photography.
Continuing along that thought, what is one concept related to night sky, milky way, astrophotography, etc that a photographer new to this niche should really take the time to learn and understand?
Love this question. My single concept, which can help in all aspects of photography, would be to learn the basics through trial and error.
There is a massive amount of information floating around online these days stating the right and wrong way to do things in photography. Some become so caught up in reading these articles that they stop going out to experiment with their camera.
Become an expert at aperture, ISO, and exposure time. Learn how to focus in any situation. After you learn these concepts, test each one to see which settings work the best in which situations. Create workflows for each shooting situation so you know how to handle them without even thinking. Compare and contrast the results, see what works, and throw away the rest.
This is the only information you'll ever need from this point forward, you've taught yourself how to learn, in your own way. Now you can solve problems as they arise, because you know how to learn and troubleshoot on the fly. Everything else will become much easier!
After learning these simple concepts, you can stop thinking about all of the settings and start to concentrate on what we're all here to do. Create art.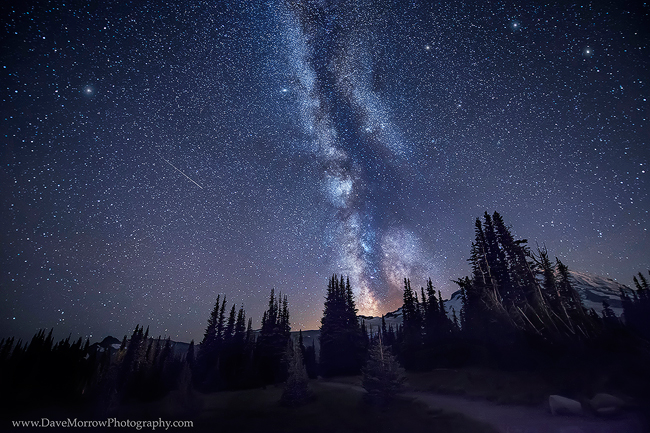 You have several workshops coming up in 2015, where are they located and where can people go to learn more about them?
In 2015, I have an array of different workshop and tour options. From 5 night / 6 day workshops & tours exploring locations such as Olympic National Park, Mount Rainier National Park, the Oregon Coast and Crater Lake National Park to 2 and 3 night tours adventuring and shooting all of the darkest locations Mount Rainier has to offer, no matter where you want to go, my 2015 schedule has you covered!
These workshops and tours also include classroom sessions where I'll be teaching my entire post processing workflow. If you're interested, check out my workshops page.
Well, thanks for taking some time to share your thoughts and knowledge with us. Is there anything else you would like to add for our readers before we let you go?
Thank you for the great interview.
Sure, I have a free 40 page star photography eBook for your readers. No matter what your skill level this eBook contains some of my favorite tips, tricks and tools for Milky Way & night photography. There are also some geo-tagged locations which provide my favorite places to photograph the night sky! Also contained are a bunch of free tutorials and other helpful information!
You can get access to this free ebook at the top of my Free Star Photography Tutorial, I also have a free How to Photograph the Northern Lights Tutorial which your readers may enjoy.
If you want to learn more about shooting this niche of photography, or see some more of Dave's work, you can check out his website at DaveMorrowPhotography.com.