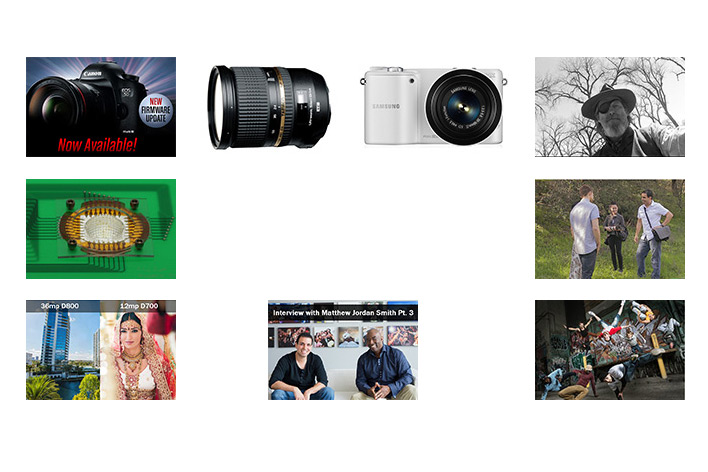 In this episode of Our Week in 90 Seconds, Canon finally released the 5D mark III firmware, Tamron released their 24-70mm f/2.8 zoom lens for the Sony A mount, Samsung announced their mirrorless NX2000, the "Dude" takes photographs, and University of Illinois developed an insect-eye camera sensor.
In our SLR Lounge originals, we demonstrate how to make your subjects comfortable in front of the camera, explain the megapixel myths, released part 3 of our interview with Matthew Jordan Smith, and showcased another awesome Benjamin Von Wong shoot.
Enjoy!
This Week's Featured News
5D Mark III Owners Rejoice Clean HDMI & Improve AF Firmware Update Now Available
With the release of a new firmware, Canon 5D mark III finally has 1080p HDMI and improved AF performance. Is it time to rejoice? We will soon find out.
Tamron SP 24-70 f/2.8 Di USD Now Available for Sony Mounts
It took a while, but Tamron finally released the Sony A Mount version of their well-received 24-70mm f/2.8 Di USD zoom lens. Of course, it will be not have the vibration control since the Sony A99 DSLT already has a built in stabilization.
Samsung announces new NX2000 APS-C mirrorless camera
While we're on new gear, Samsung also announced their new APS-C mirrorless camera, the NX2000. Does it have enough to compete with the other mirrorless offerings from Sony, Panasonic, Olympus, and Fuji?
The Dude Abides Behind the Camera | Jeff Bridges' Photographs
Dude! The Dude aka Jeff Bridges shoots photography and does a great job at it. So good that he was recently honored with at the 2013 Infinity Awards Dinner. He also has a photography book aptly called "Pictures" which he shot with a Widelux camera.
New Camera Sensor Mimics an Insect Eye, offers limitless depth of field
Researchers at the University of Illinois has created a new sensor that features an array of hemispherically arranged lenses and detectors that has a 180 degree field of view with no distortion and almost limitless depth of field.
How to Get Your Subject to Feel Comfortable for a Shoot – Ask SLR Lounge Season 1 Ep 2
In this episode of Ask SLR Lounge, we demonstrate how to we work with our clients to make them feel more comfortable in front of the camera. The techniques we covered is taken from our Natural Light Couples Photography Workshop DVD.
The Truth Behind the Megapixel Myth – Monday Tips in 2 Season 1 Ep 1
Is 40 megapixels always better than 10-20 megapixels? Well, it depends. There are other factors that contribute to image quality. And then there is the type of photography that you shoot.
Matthew Jordan Smith Interview Part 3: Building Great Client Relationship
In the final part of our interview with the famed photographer, Matthew Jordan Smith, we discuss how to build strong client relationship. From photography celebrities like Aretha Franklin to photographing children for his personal book project, Future Children, Matthew is no stranger to success with clients. And of course, we talk about gear.
Unravel the Mystery of Epic Composition with Von Wong
When it comes to photographic epic shoots, Benjamin is no stranger. Shooting a large group can be daunting, especially when it comes to composition. Take a look at how Ben used classic compositional techniques to create this image.