Clutter can be chaos and often lead to the destruction of creativity, seizing its ability to thrive even before an idea has taken off. I'm sure for some, that's a cue to drop in the following platitude:
But the fact remains that for many of us, especially visual creatives, we are visually engaged in all things, and a messy and disorganized workspace can truly knock our attention. If the mind is the home to your creativity, then a workspace is the home for your productivity. The software, technology, and accessories required just to make one freelance shoot possible can already be overwhelming, now imagine building a robust photography business with a cluttered desk as your foundation.
UK digital creative Joe Allam takes us on a tour of his refined desk setup, serving as his main domain for all things photography and design related.
Now, whether or not you agree that this is the "ideal" workspace setup, is beside the point. Allam's goal is to use his space efficiently to maximize his productivity and streamline his workflow. Here's an old image of our EIC's desk from about 3 years ago with a few similarities.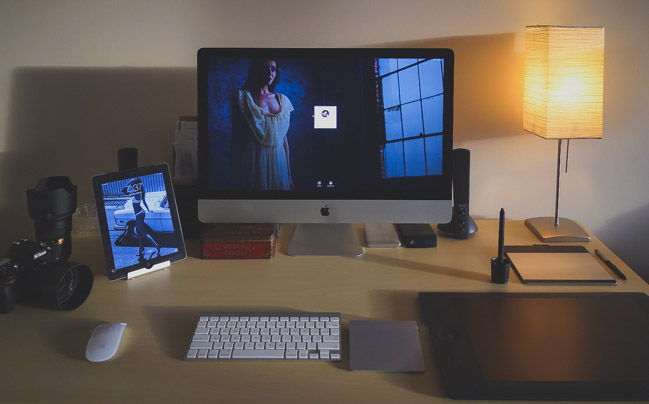 It's really all about what works for you but it's always interesting to see what others have done so we can learn and adapt. Below, watch Allam's desk setup tour filmed entirely on the Sony A7R II, and for your convenience, here's a list amongst Allam's tech choices for his craft:
Apple 27″ iMac with Retina 5K Display
Bose Companion 3 Series II
Røde NT1-A
Lexar Professional USB 3.0 Dual-Slot Reader
G-Technology G-Dock EV
G-Technology G-Drive EV 1tb
LaCie Rugged 500gb
WD MyBooks
Wacom Intuos Graphics Tablet
BlueLounge Cabledrop Mini
Joe's videos are always entertaining and easy to watch and listen to. Show him some love and keep up with his work on YouTube, Instagram, & Facebook. And share some photos of your own workspace and let us know what works for you!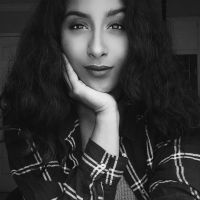 Shivani Reddy
Shivani wants to live in a world where laughter is the cure to pretty much everything. Since she can't claim "Serial Bingewatcher" as an occupation, she'll settle for wedding/portrait photographer at Lin and Jirsa & marketing coordinator here at SLR Lounge. For those rare moments when you won't find a camera in her hand, she will be dancing, eating a donut, or most likely watching Seinfeld. Follow her on Instagram:
@shivalry_inc