Whether you're a new photographer looking to expand your portfolio or a seasoned pro who is looking to shoot something outside of the box, a styled photo shoot can be a great way to get those creative juices flowing and join forces with other creatives for a fun filled day.
There are many reasons to organize a styled shoot, and if you're wondering why you should think about doing a styled shoot, here's a great article on 3 WAYS TO BENEFIT FROM A STYLIZED SHOOT. This article will focus on giving you a few tips on how to set up a styled shoot if you're on a budget.
Most of us have small budgets and limited resources when it comes to putting together a styled shoot. The key is finding like-minded creatives that all have a common goal – many times it's creating something cool and getting some awesome images out of it for a website or portfolio. As the photographer, you are the one that will have the biggest chunk of responsibility. It's up to you to deliver quality images to all the vendors that are participating in the shoot.
There isn't any order to setting up a styled shoot. Each of the steps below are interchangeable. You may find that a model needs new photos for her portfolio, or a dressmaker has a new collection out and is willing to let you borrow a few outfits. I've been inspired by a cool hairpiece and created an entire themed shoot from one little headband. Whatever the circumstance may be, use these tips to help you plan out a styled shoot without having to spend a ton of cash.
Narrow Down the Concept/Theme
Maybe the concept or theme of the styled shoot is something you've always wanted to try. Perhaps you were inspired by the new Taylor Swift video or a movie that is coming out. However the concept or theme came about, it is important that everyone is on the same page and knows exactly the vision of the photo shoot will be.
Put together a Pinterest board and have all the stylists collaborate on it. Pin ideas and share them with others. Communicate this vision to all involved so the images will be cohesive and each vendor involved can be creative within your vision.
Sometimes the theme can be as broad as a "trash the dress" session or it could be as elaborate as a carnival themed wedding day. Be creative when finding resources to set up your shoot. You may have a collection of pretty vases or a couple yards of tulle sitting in your storage closet that would fit the theme well.
For this styled shoot below, we wanted a country chic themed wedding for a new venue. Our stylists found an amazing location, set up a beautiful table with pieces from her basement, the venue provided much of the plate ware and every little detail was focused in on the theme. (All images in this post are from that shoot).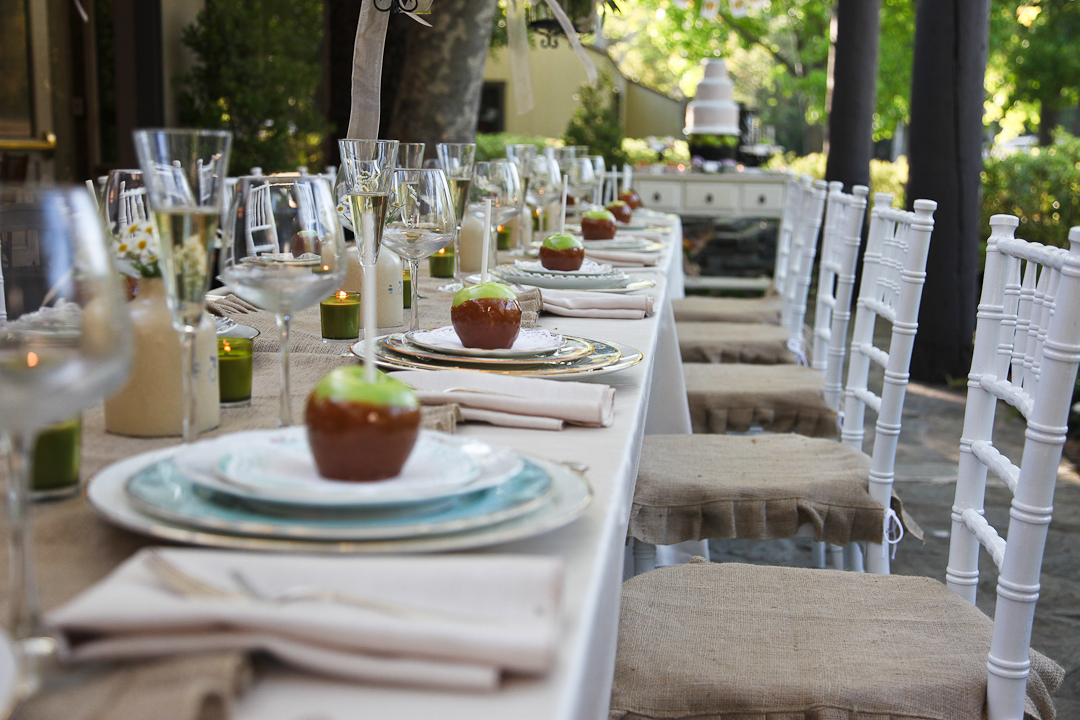 Book The Stylists
You need a makeup artist and a hairstylist at the very least (I also like to have a set stylist and wardrobe stylist since these are not my strengths). The services of these people can be costly (but worth it) if you find really talented ones, but many times, these people will need updated photos of their work for their websites. Other times you can collaborate to submit images to a magazine to be featured. Whatever the reason, there are always people out there willing to trade their time for your photos. Others may be willing to charge a nominal kit fee in exchange for photos. The key is to ask, but don't assume. Some people don't need new photos and that's okay. Maybe your own hairstylist knows someone or has an assistant that needs practice.
I've set up or have been a part of many styled shoots over the years, having founded the SoCal Photog Shootout group and someone always knows someone else. Beauty schools are a good place to inquire for students who are eager to practice and build their portfolios. If worse comes to worse, most models know how to do their own hair and makeup and that pro hair and makeup may be an element that you exclude from your photo shoot.
Find The Vendors
Sometimes, you'll need vendors to help. Perhaps you're planning a wedding themed styled shoot. Where will you get the wedding dress? What about bridal accessories? Flowers? This is where the power of networking comes in. Asking people directly or do an all call via social media, which is an obvious solution. Go where the creatives go. Etsy is a great place where a group of talented creatives who need photos for their stores, gather. Look for an industry networking event to attend or your local flower shop or craft fair.
One time, I heard through the grapevine that a wedding dress shop went out of business and I was able to pick up 6 wedding dresses for $100. We used these dresses for a huge "Trash the Dress" styled shoot, with 60+ photographers attending, caterers and industry leaders all coming together for a cool event. Here's a video from that day. I think we put the dresses to good use…
Look For a Model
Usually for a styled shoot you need someone to model. Finding a model is actually one of the easier parts to the styled shoot. Many people need photos for a variety of reasons. Keeping your theme/concept in mind, ask a friend or family member that is comfortable in front of a camera. You can look on sites like Model Mayhem, but from my experience, the models can be unreliable (I have found a few good ones though). Inquire at your local modeling schools to see if they have students they need to test.
I've actually had a number of friends whose daughters were interested in modeling or needed headshots for something and were more than willing to model for me. They usually always have friends that want to model as well. Some of my very best models have come from my friend's daughters who have never modeled before, but had a background in dance or ballet.
Pick The Location
I've been fortunate enough to work at some breathtaking venues because in one of my earlier styled shoots, I connected with a woman who was super connected with all the local venues in the area. But before that, I've shot at parks, in alleys, at a friend's farm, and many other locations that were secluded enough to set up a few lights and bring people.
Sometimes and depending on the type of shoot or theme, a venue will need new images for their website and would be willing to trade as long as you provide them with shots of the venue. I've photographed at a number of new wedding venues in the area and planned wedding themed styled shoots so the venues had images they could show potential brides. I was allowed to use their entire grounds and staff for the day free of charge. I've worked with numerous hotels who allowed me to use a room or banquet hall in exchange for images of their building.
There are also many very affordable studios that have hourly/daily rates. Some of these locations even provide studio lighting and backdrops included in the day rate!
 Additional Tips For Styled Photo Shoots
1. Stay organized. Make sure you have a call sheet ready and emailed to all vendors, models, and stylists so that everyone knows where they are supposed to be and at what time. Communication is extremely important to making everyone happy and excited to participate.
2. Make it easy for all involved to download the images. Whether it be a Dropbox, on online hosting site or disc, most people are doing this shoot for the images.
3. Make sure you get model releases from all models. This is the one I use.
5. Make sure all the terms are agreed upon upfront. If you aren't willing to give hi res images or you insist on your watermark on everything, make sure everyone knows that. If the venue wants only color images or the model can only be photographed on her left side, or whatever the case may be, just be sure that everyone communicates and understands what each is willing to offer.
6. If you use the styled images in your portfolio, I highly recommend that you let your potential clients know that the images were indeed from a styled photo shoot. Be forthcoming and upfront about these things so that there are no surprises in the end.
Conclusion
As you can see, putting together a styled shoot doesn't have to cost a ton of money and the results can be spectacular. From doing so many styled shoots, I made a ton of connections with some very talented creatives who also had large networks. An added side benefit of all this collaboration is that we've been able to refer business to each other throughout the years and nothing is more fun on a wedding day than working with all of your friends.
Have you done any styled photo shoots? Tell us about your experience in the comment section below!
CREDITS : Photographs by Hanssie have been used with permission for SLR Lounge. Do not copy, modify or re-post this article or images without express permission from SLR Lounge and the artist.
Hanssie
Hanssie is a Southern California-based writer and sometimes portrait and wedding photographer. In her free time, she homeschools, works out, rescues dogs and works in marketing for SLR Lounge. She also blogs about her adventures and about fitness when she's not sick of writing so much. Check out her work and her blog at
www.hanssie.com
. Follow her on
Instagram