As an advertising and celebrity photographer, Philippe Echaroux is probably used to large productions, tons of expensive gear and big dedicated studios. In his presentation at Photokina  2014 for Elinchrom though, he tried something different. The setup he used at Photokina was everything one man could easily carry. He used one strobe, one battery pack and an inexpensive camera. The whole shoot was realized without any help from an assistant.
The setup he used to capture the images that you can see below was rather unusual: Philippe taped a lightboom with a beauty dish to his back, the strobe he used was an Elinchrom Ranger Quadra.
Thoughts
This project is (again) proof that a great photographer is capable of taking a great picture- regardless of whether he has fancy gear or not. An Elinchrom Ranger is certainly not an inexpensive toy, but in this unusual setup and in combination with an entry-level DSLR, the result is quite impressive to me.
This project by Philippe Echaroux shows us that you can make great portraits in less than ideal conditions – a trade show floor, all because of good light. Sometimes you have to do something seemingly weird to stand out, use what gear you have and create images that look fantastic. I mean, the results speak for themselves, don't they?
Credit: All photographs by Philippe Echaroux are copyrighted and have been used with permission for SLR Lounge. Do not copy, modify or re-post this article or images without express permission from SLR Lounge and the artist.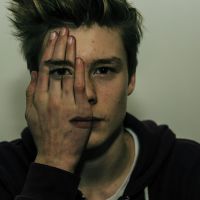 Paul Faecks
Paul Faecks is a portrait- and fine art photographer, based in Berlin. If you want to check out his latest work, you can do so by following him on
Instagram
or by liking his
Facebook Page